The only Energy Company in Malta have been testing a Proven 2.5kW small wind turbine and the results have proven very successful.
Enemalta Corporation's seeks renewable energy options

15.07.08
FOR IMMEDIATE USE.
The only energy company in Malta are looking to power ahead after the success of first official wind turbine. Since the middle of November 2007 pioneering Enemalta Corporation have been collecting data on the performance of their Proven 2.5kW turbine. The turbine is situated at Vendome Distribution at Ramlet il-Qortin near Amir and was installed to raise awareness and use of new renewable energy sources. The Proven 2.5kW has worked great and from January 2008 it has produced 1800 kWh.
Enemalta Corporation with the help of installers, Solar Solutions, is pioneering a new era in 'green' energy. The motivation to install a small wind turbine was down to environmental concerns and the high energy prices of €0.33 per unit. The turbine installed can meet the needs of a standard three bedroom home. Any excess energy production can be stored or exported to the grid and because it is net metering you get the same price back as you pay out.
Due to the success of the turbines, Solar Solutions are looking stock more to cope with what looks to be a high demand for this renewable energy system. The Proven 2.5kW is a machine that works in light winds but also one that can easily cope in extreme winds 70ms (140+mph). Proven Energy chose to go downwind so that the blades could pivot away from the wind reducing the swept area. This is a patented unique approach.
Proven Energy's CEO, Andrew McMullan quoted:
"We welcome Enermalta Corporation's approach to be the first to officially install this turbine in their country. Generating electricity from a wind turbine helps cut down CO2 emissions and reduces climate change levy charges"
Enemalta Corporation spokesperson stated:
"In a bid to attract further investment from the private sector is distributing data and expertise collected from our project to any interested third parties for free, by stating that Enemalta Corporation is ready to buy and use any superfluous electricity generated by small wind tubins installed in private installations".
-ends-
Notes to Editor
About Proven Energy
Proven Energy is the world's leading supplier of small scale wind turbines. Its high performance turbine design is the result of almost thirty years of inspiration, innovation and development. Proven Energy is based in the west of Scotland, India and the USA.
Proven Energy has 25 years expertise in the renewables sector and will always be delighted to comment on issues relating to small scale wind. A vast database of images of wind turbines in action can be found at http://www.provenenergy.co.uk/image_library_login.shtml
About Solar Solutions
Solar Solutions Ltd (SSL) formed primarily with the objective of encouraging the promotion of renewable energy sources (RES) to Malta.
Extraction and use of fossil fuels has created serious environmental problems, mainly through carbon dioxide and other toxic gas emissions. Fossil fuel production and use are responsible for about three-quarters of man-made CO2 emissions. Globally, this has contributed to the 'greenhouse effect', bringing the leading countries to agree to a reduction of these gases through the Kyoto Protocol.
About Enemalta Corporation
Enemalta Corporation offers a broad range of services to both the industrial, commercial and domestic sectors in the energy field. Set up in 1977 the Corporation today undertakes a broad range of operations, incorporating the importation and distribution of petroleum products and liquefied petroleum gas as well as the generation and distribution of electricity to all sectors of Maltese society.
For further details contact Mark Connolly on +44 (0) 1355 597 000 mark.connolly@provenenrgy.com, www.provenenergy.com, Torus Building, Rankine Avenue, East Kilbride, G75 0QF.
Featured Product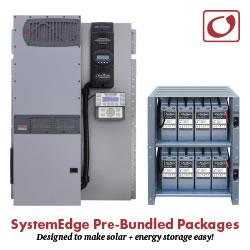 Each pre-bundled package is designed to make solar plus energy storage easy. By combining OutBack's most popular FLEXpower pre-wired systems with matched OutBack energy storage, SystemEdge takes the guesswork out of installing solar plus storage. Every SystemEdge package includes a FLEXpower factory pre-wired system, application-specific EnergyCell batteries and racking, FLEXware ICS Plus combiner and all the necessary connection hardware.