Motorworks Clean Vehicles, Inc. is now offering additional alternate fuel solutions for low speed light duty fleets.
Motorworks Clean Vehicles, Inc. in Amityville, Long Island, New York has added the Vantage Vehicle Group to its popular lines of Zero and Low Emission Cars and Trucks. Gary Birke, the President of M.C.V. states "We are pleased and excited about offering the Vantage line of vehicles. The ability to offer E85/Flex Fuel pickup trucks, cargo and passenger vans will help us offer more solutions to our fleet customers who may need additional range and frequent air conditioning on some of their vehicles. The pickup trucks and vans are also available in All Electric with advanced design AC motor technology. Our fleet customers are excited to be offered flexibilty in alternate fuel powertrains."

Motorworks Clean Vehicles, Inc. is the exclusive authorized dealer for the Vantage Vehicle Group for both New York and New Jersey States.
Featured Product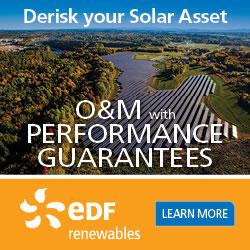 EDF Renewables offers the same innovative solutions that maximize the performance of our own 5.2 GW of installed projects. Because we're not an equipment manufacturer, our recommendations are transparent and data-driven. We cover the entire project lifecycle: from pre-commissioning support, through warranty and post warranty operation, to late stage and decommissioning.