Iberdrola Renewables has strengthened its presence in France by commencing the construction of four wind farms in the northeast of the country
Iberdrola Renewables has strengthened its presence in France by commencing the construction of four wind farms in the northeast of the country.

In all, the four new farms would cumulatively contribute a total of 30 megawatts (MW) of power. The company, through its subsidiary Iberdrola Renewables France, has 166 MW of installed power distributed over 15 wind farms.
Specifically, the company has begun the works at the wind farms of Brissy (6 MW in capacity, distributed over three Gamesa G90 wind turbines); Sery (8 MW over four G90 wind turbines); Ribemont (10 MW over five G90 wind turbines), and Villers le Sec (6 MW over three G87 wind turbines).
Iberdrola Renewables has set an objective of installing 2,000 MW during the current year. As per its Strategic Plan 2008-2012, the company has marked an investment worth €18,800 million in this period in order to reach a net profit of approximately €1,000 million in 2012.
The investment planned for in this plan will be fundamentally set aside for international expansion, which will receive three quarters of the total. Half of the investment effort will be set aside for the United States (50 percent), while 23 percent will be for Spain, 25 percent for the rest of Europe and two percent for other countries.
The company hopes to reach a renewable power of 13,500 MW in 2010 and 18,000 MW in 2012 (the company clarified that this does not include 606 MW owned by a third party under contract of sale of energy).
If you're responsible for the operation and maintenance of a wind farm and you'd like to know more about how to optimise your O&M strategy for maximum wind power generation visit www.windenergyupdate.com. We're organising the Wind Energy Operations and Maintenance Summit which will give you a complete guide to achieving a cost effective O&M strategy that achieves fast ROI.
It's a massively important event and we've already taken bookings from Allianz Specialist Investments, Siemens, Mitsubishi Power Systems, BP Alternative Energy, SWS Natural Resources, 3i Plc, Ivecom and many more so you simply cannot afford not to be there.
If you'd like to take part or receive more information about this landmark event register your interest now at www.windenergyupdate.com/wind08/info.shtml.
Wind Energy Update
Part of the Eye For Energy Group, Wind Energy Update is committed to providing wind energy professionals across the globe with business intelligence of the highest calibre. We do this via industry leading events, newsletters, news releases, press releases, reports and very soon an online social network to ensure you're always one step ahead.
For more information contact
Ian Evans
Director
Wind Energy Update
T: +44 (0) 20 7375 7218
E: ian@eyeforenergy.com
Featured Product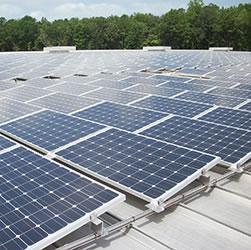 The Power Rail™ Commercial Mounting System is designed with the professional PV solar installer in mind. Both the XD/UD and LD/MD rails feature single tool assembly with the revolutionary patented RAD™ Lock-in-Place bolt for fast and secure module clamping. The high strength marine-grade aluminum rails include an integral wiring channel for securing cables and providing a professional finish.