"Nevada is ready to see more solar energy development, especially CSP"
Renewable portfolio standards (RPS) are one of the best ways to encourage renewable energy development of all sorts - solar, wind, geothermal and biomass.

For its part, Nevada in the US, too, has an aggressive RPS of 20 percent renewable energy by 2015.
However, States that have implemented RPSs need to now evaluate how well the interim goals in many of these RPS's are being met.
According to Charles Benjamin, director, Nevada office, Western Resource Advocates if the interim goals are not being met then State legislatures need to decide what else needs to be done to remove the barriers to full RPS implementation in their respective State.
"One of those barriers is transmission and these States need to look at what other States have done to create transmission/infrastructure authorities and competitive renewable energy zones to overcome transmission barriers," Benjamin told CSPToday.com in an interview.
Benjamin, who is scheduled to speak during CSPToday's second CSP Summit US scheduled to take place in San Francisco on 30th September - 1st October this year, spoke about need for transmission lines, implementation of related legislation and much more. Excerpts from an interview:
CSPToday.com: Providers of renewable power covet cheap land and abundant sunshine and wind in places like west Texas, Montana, Wyoming and California's Mojave Desert and Imperial Valley. But utility executives say no one will build plants without power lines to connect those remote spots to big cities. As an industry professional says, no one can develop a project if they can't send the electricity anywhere. You need transmission. How do you see this chicken and egg situation shaping up in future?
Charles Benjamin: State legislatures will have to take the initiatives to build new transmission lines by creating transmission authorities and/or mandating that their public utility commissions to develop competitive renewable energy zones. Some states legislatures have already done so.
CSPToday.com: How should states approach building transmission lines especially for renewable energy?
Charles Benjamin: I recommend that State legislatures which want to see renewable energy development for economic development reasons need look at what other states have done to create transmission/infrastructure authorities and competitive renewable energy zones and adapt what other states have to what they think works best in their state.
CSPToday.com: How are various states going about identifying and evaluating renewable energy zones within their respective region and designing transmission facilities to interconnect these resources in the most cost effective and environmentally benign manner possible?
Charles Benjamin: Texas and Colorado are implementing legislation called "competitive renewable energy zones" that mandate that their state's public utility commissions work with utilities to identify the best areas of their states for various types of renewable energy, what kind of transmission infrastructure would be needed to bring that energy to the load and then providing guaranteed cost recovery to the utilities for developing such transmission infrastructure.
The Nevada Governor has set up a Renewable Energy Transmission Access Advisory Committee (RETAAC) that in 2007 identified areas of Nevada with the best potential for wind, solar, geothermal and biomass energy production. The Governor appointed a second phase of RETAAC that is now meeting to recommend policy options for the development of the renewable energy potential in Nevada. California is in a process called a Renewable Energy Transmission Initiative (RETI) whose goal is identify transmission projects needed to meet California's goals to implement more renewable energy,
CSPToday.com: Recently, it was stated that Nevada is the Saudi Arabia of solar energy and even the authorities have lifted the moratorium and have started accepting applications to build solar power plants on public lands. How do you assess the situation as far as readiness of the region for this form of renewable energy is concerned?
Charles Benjamin: Nevada is ready to see more solar energy development especially CSP. However, the state's utilities, the public utility commission, influential state legislators and the gaming and mining industry need to be convinced that this form of energy is reliable and can meet Nevada's electrical needs in a state that has and continues to experience rapid population growth - especially in the Las Vegas valley.
CSPToday.com: You were quoted as saying that the bureau should take time to study plant sites carefully. Can you elaborate on what you feel is required for reaping maximum benefits for future?
Charles Benjamin: The significant increase in interest by solar developers in southern Nevada has raised fears that the parts of the Mojave Desert will be covered in mirrors and power towers. The Bureau of Land Management (BLM) is charged by Congress with managing public lands in Nevada and elsewhere.
From a conservation perspective, they are mandated to carefully manage these lands for a variety of purposes. I think the programmatic environmental impact statement process that they are undertaking with regard to CPS is appropriate and necessary. The process will allow all voices to be heard with regard to CSP development on public lands.
I know that this may be disconcerting to those who want to see rapid development of CSP on public lands. However, I would warn that if CSP development happens in a way that seems to steamroll over the concerns of the conservation community there will be a negative reaction followed by lawsuits and other actions that seek to block such development. This would be a tragedy since I believe most of the conservation community believes that global warming is the greatest environmental/conservation threat that mankind has ever faced most of the conservation community understands that CSP can play a positive role in creating the electrical energy we need going forward without harmful greenhouse gas emissions.
CSPToday.com: Recently, it was shared that a Nevada committee's report about how to combat climate change stands out from its counterparts in other Western states because it does not aggressively target the two industries responsible for the most greenhouse gas emissions. Can you elaborate on this development and also what's your viewpoint regarding this?
Charles Benjamin: The Nevada Governor, to his credit, created a Climate Change Committee, to give him and the legislature recommendations on how to handle climate change issues. The Committee, in my view, did an excellent job of identifying the threat of global warming to Nevada and the southwest part of the US. There were also some good suggestions as to how Nevada could do a better job of energy efficiency and other measures to reduce the state's carbon footprint. However, the Committee also recommended an "energy intensity" metric that basically calls for increasing the number of coal fired power plants in Nevada (already planned by the state's utility) in order to have more renewable energy.
2nd CSP Summit US
Charles Benjamin, director, Nevada office, Western Resource Advocates is scheduled to speak during CSPToday's second CSP Summit US scheduled to take place in San Francisco on 30th September - 1st October this year.
For more info, click here: http://www.csptoday.com/us/programme.shtml
Or
Contact:
Sara Lloyd-Jones
Conference Director
CSP Today
t: +44 (0) 20 7375 7153
e: sara@csptoday.com
US toll free: 1800 814 3459 ex: 208
Source:
CSP Today
Featured Product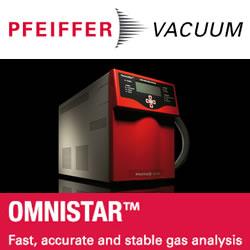 The Pfeiffer Vacuum OmniStar benchtop analysis system offers you a compact footprint, powerful software and Ethernet connectivity. It's the optimum solution for many real-time gas analysis applications. With the OmniStar, Pfeiffer Vacuum offers you a complete solution for gas analysis, in chemical processes, semiconductor industry, metallurgy, fermentation, catalysis, laser technology and environmental analysis. The turnkey OmniStar gas analysis system consists of heated, temperature-regulated gas inlet system, Quadrupole mass spectrometer, a dry diaphragm vacuum pump and HiPace turbopump. Unlike competing methods such as FTIR, OmniStar is suitable for qualitative and quantitative analysis of most gases.