Renewable Energy Stocks Green Investor Audio with Professor Colin Oloman, Inventor of the ERC carbon capture technology, on behalf of Mantra Venture Group Ltd. (OTCBB: MVTG
POINT ROBERTS, WA and DELTA, BC -August 21, 2008 Investorideas.com and www.RenewableEnergyStocks.com, a leading investor news and research portal for the renewable energy sector within Investorideas.com, present an audio interview with Professor Colin Oloman, inventor of the ERC (Electro Reduction of Carbon Dioxide) carbon capture technology, on behalf of Mantra Venture Group Ltd. (OTCBB: MVTG).

Professor Colin Oloman describes the scope and potential and applications for the technology." The process turns carbon dioxide into useful products instead of burying it underground. It is an alternative or add- on to carbon sequestration. The applications include the production of industrial chemicals and liquid fuels such as formic acid."
"Liquid fuels such as formic acid can potentially be used as carbon neutral regenerated fuel systems with fuel cells that are driven by non- fossil sources. These carbon neutral systems could be a key to tackling the problem of global warming."
He also outlines the next phases of development for the technology from Mantra's lab in Richmond B.C., to a much bigger stage of building a plant in the future.
To hear audio: http://s3.amazonaws.com/static.investorideas.com/podcasts/2008/081308a.mp3
The Mantra ERC technology was also recently featured in North American Clean Energy Magazine http://www.nacleanenergy.com/
Previous Mantra audio available: Larry Kristof Elaborates on Green Incubator Model of Carbon Capture, Cellulosic Ethanol and Recent China Venture. CEO Larry Kristof is joined by Mr. Fred Enga of Northwind Ethanol, Mantra's joint venture partner for the development and commercialization of cellulosic ethanol. To hear the full audio interview click here: http://s3.amazonaws.com/static.investorideas.com/podcasts/2008/081208a.mp3
About Mantra Venture Group Ltd. (OTCBB: MVTG-FSE: EDV 5MV)
Mantra, through its group of sustainable energy, carbon reduction and consumer product subsidiaries, is active in the green technology marketplace with an innovative, multi-faceted approach focused on profitability through sustainability. By aggressively seeking out new technologies and innovating solutions for a cleaner earth for everyone, Mantra intends to provide a highly profitable and environmentally responsible investment for its shareholders. For a list of company projects: http://www.mantraenergy.com/projects/index.php More info can be found on the Investorideas.com at the company showcase http://www.investorideas.com/CO/MVTG/ or at the company website http://www.mantraenergy.com/
About Our Green Investor Portals:
RenewableEnergyStocks.com® is one of several green investor portals within Investorideas.com and provides investors with stock news, exclusive articles and financial columnists, audio interviews, investor conferences, Blogs, and a directory of stocks.
About InvestorIdeas.com:
"One of the first online investor resources providing in-depth information on renewable energy, greentech and water sectors." InvestorIdeas.com is a leading global investor and industry research resource portal specialized in sector investing covering over thirty industry sectors and global markets including China, India, Middle East and Australia.
Disclaimer: Our sites do not make recommendations, but offer information portals to research news, articles, stock lists and recent research. Nothing on our sites should be construed as an offer or solicitation to buy or sell products or securities. We attempt to research thoroughly, but we offer no guarantees as to the accuracy of information presented. All Information relating to featured companies is sourced from public documents and/ or the company and is not the opinion of our web sites. This site is currently compensated by featured companies, news submissions and online advertising. Disclosure: Mantra Venture is a featured showcase company (program#2) for $2000 month and 150,000 restricted shares over 12 months.
www.InvestorIdeas.com/About/Disclaimer.asp
For more information contact:
Investorideas.com
Dawn Van Zant 800.665.0411
Email: dvanzant@investorideas.com,
To contact Mantra
Terry Johnston
Phone: (604) 267-3022
Email: tjohnston@mantraenergy.com
Source: RenewableEnergyStocks.com, Mantra Venture Group Ltd
Featured Product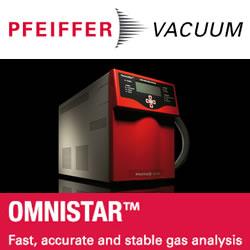 The Pfeiffer Vacuum OmniStar benchtop analysis system offers you a compact footprint, powerful software and Ethernet connectivity. It's the optimum solution for many real-time gas analysis applications. With the OmniStar, Pfeiffer Vacuum offers you a complete solution for gas analysis, in chemical processes, semiconductor industry, metallurgy, fermentation, catalysis, laser technology and environmental analysis. The turnkey OmniStar gas analysis system consists of heated, temperature-regulated gas inlet system, Quadrupole mass spectrometer, a dry diaphragm vacuum pump and HiPace turbopump. Unlike competing methods such as FTIR, OmniStar is suitable for qualitative and quantitative analysis of most gases.