A surge in capital spending by the mining sector is evidence that an impending emissions trading system has not reduced enthusiasm to invest in Australia, according to the WA Sustainable Energy Association Inc. (WA SEA), the business chamber for sustainable energy industries in WA.
Australian Bureau of Statistics figures yesterday showed a 5.7 per cent lift in new and expected capital spending in the June quarter to a record $22.59 billion.

The size of the rise, driven by an 8 per cent increase in equipment and plant spending, shows that businesses are continuing to invest heavily in expansion. Mining sector expenditure rose almost 9 per cent, 27 per cent higher than the previous year, and is forecast to grow 45 per cent in 2008-09. For all industries, the bureau is forecasting total capital spending of almost $100 billion through this financial year, or about 8 per cent of GDP.
"Current investment in projects together with forecast expenditure shows that, with full knowledge of an emissions trading system to start in Australia by 2010, there is still strong investment in the opportunities in Australia," says Dr Ray Wills, Chief Executive of WA SEA.
"Claims that an emissions trading system will damage Australia's economic development simply do not add up in dollar terms, and growth in investment is a clear indication an ETS will not stop growth. Businesses concerned about an ETS would not be continuing their investments now, but continuing growth shows if there are concerns, these must be minor and obviously not influencing investment," says Dr Wills.
"Considering numbers like Australia's GDP of more than $800 billion, a Federal Government annual budget over $200 billion, and the forecast level of business investment at $100 billion, a carbon market that in the first few years will trade less than $3-4 billion per annum, or about 0.4 per cent of GDP, is small change."
"Despite the small impact carbon trading is likely to have overall, steps must still be taken to manage the impact on exposed businesses. But a combination of an emissions trading system, paired with direct incentives for industry to reduce emissions through both energy efficiency and procurement of lower emissions energy, will actually diversify the economy and create a more robust environment for business. This mix will in fact reduce inflationary pressures that would otherwise occur through spiralling fossil fuel prices," says Dr Wills.
WA Sustainable Energy Association Inc. (WA SEA) Media Release - 29 August 2008
Media Contact:
Dr Ray Wills 0430 365 607
Editors notes:
1. ABS report http://www.abs.gov.au/ausstats/abs@.nsf/mf/5625.0?OpenDocument
2. The Western Australian Sustainable Energy Association Inc. (WA SEA) is a chamber of businesses variously promoting, developing and/or adopting sustainable energy technologies and services that minimise the use of energy through sustainable energy practices and maximise the use of energy from sustainable sources. WA SEA is supported by a growing membership of 180 industry members from a diversity of businesses. www.wasea.com.au.
Featured Product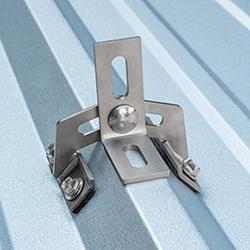 QuickBOLT Low Profile QuickBOLT with Microflashing™ is the industry's affordable, UL Certified Asphalt Shingle mounting system. The Microflashing™ is compressed by the collar on the bolt to create a water-tight seal. With an installation time of less than one minute, the Low Profile QuickBOLT allows installers to complete more jobs.