GPEC and SolarCity Unveil Greening Greater Phoenix Initiative to Promote Region as Solar and Sustainability Leader
September 3, 2008 (Phoenix, Arizona) - The Greater Phoenix Economic Council (GPEC) announced a new sustainability initiative today to position Greater Phoenix as a location for solar and clean technology, green building, renewable energy and other "green industry" organizations. Greening Greater Phoenix Powered by SolarCity promotes the region as an emerging leader in solar technology and renewable energy industries. Over the next several months, GPEC will launch a national and international awareness campaign for Greening Greater Phoenix Powered by SolarCity, targeting companies seeking to expand or invest in a renewable energy market.

SolarCity, the West's number one residential solar power provider, recently expanded operations in Phoenix and is partnering with GPEC to make this effort a success. Also championing the regional initiative are the City of Phoenix, City of Scottsdale and City of Surprise—all of which have committed to adopting solar technology and green-building standards to enhance economic development activity within their communities. Greening Greater Phoenix Powered by SolarCity also complements Maricopa County's effort to become the greenest county in the nation.
"GPEC is honored to have SolarCity as our partner to continue the momentum of building a hub in Greater Phoenix for solar and sustainable industries," said Barry Broome, GPEC president and CEO. "Greening Greater Phoenix unifies our communities, stakeholders and partners while diversifying the economy with the creation of high-wage jobs in the renewable energy sector."
"Our mission is to help Arizona realize its obvious potential to be a national leader in solar power adoption by making solar affordable for more area families, and we've been thrilled with the initial response we've received from Greater Phoenix residents," said Peter Rive, SolarCity co-founder and COO. "Greening Greater Phoenix is intended to expand the early momentum we've achieved in solar to broader sustainability initiatives in the area, and we're proud to be a part of it."
Greening Greater Phoenix Powered by SolarCity will drive regional competitiveness in the solar and renewable energy industries by:
• Providing a regional framework to promote communities' sustainability efforts in relation to business development and foreign direct investment opportunities.
• Launching a national and international marketing campaign to brand Greater Phoenix as an emerging sustainability and solar leader.
• Recruiting industry expertise and green champions to serve in an advisory capacity and sounding board for GPEC's leadership.
The City of Phoenix has been a leader in the areas of water conservation, air quality and energy conservation for more than 30 years. Today, Phoenix remains committed to sustainability with the adoption of a long-term renewable energy goal set in April 2008. In close cooperation with the Environmental Quality Commission, the City of Phoenix established a goal for 15% of the energy used by the City to come from renewable energy sources by 2025. In addition to renewable energy practices, the City of Phoenix is a leader in green and sustainable building practices. In 2004, Fire Station 50 was awarded the first LEED certified facility in Maricopa County and was the second LEED certified facility in the country. The City Council adopted a policy in 2005 that, at a minimum, requires all of the new 16 city buildings constructed with 2006 Bond Funds be designed and built to the basic LEED standard.
"Phoenix has been called the first great city to emerge in the 21st Century," said City of Phoenix Mayor Phil Gordon. "Our goal is now to become the first sustainable city in the 21st Century and beyond. A Greener, Greater Phoenix is more than a slogan, it is our destiny."
The City of Scottsdale's Green Building Program, the flagship of the city's green initiatives, was established in 1998 as a voluntary builder program to reduce the environmental impact of building. The program rates buildings in the areas of site, energy, building materials, indoor air quality, water and solid waste, and offers development process incentives to influence builder design and product choices. Details of the program, and information about the community lecture series, can be found at http://www.scottsdaleaz.gov/greenbuilding. In addition, to further support this commitment to Green, the City of Scottsdale passed a resolution in 2005 that requires all new, occupied city buildings, of any size, be designed, contracted and built to achieve certification in the Leadership in Energy and Environmental Design (LEED') Program at the Gold certification level.
"The City of Scottsdale has long been at the forefront of engaging in and promoting green building and sustainable development," said City of Scottsdale Mayor Mary Manross. "This new initiative ties into Scottsdale's mission to attract and develop cutting edge technologies that are better for our environment and create economic opportunities for our citizens."
The City of Surprise is an emerging West Valley leader in sustainability practices and industry attraction, with a booming population of 108,000 people and a 309 square mile planning area. The city recently began tracking its "green" efforts with the launch of its Green Surprise website - www.surpriseaz.com/greensurprise. Featured prominently on that site are the city's Water Conservation Ordinance, which cracks down on water wasters, and the air quality controls that are in place through the city's PM-10 rules, to reduce unhealthy dust particles in our air.
"Surprise is committed to sustainability and innovation," said City of Surprise Mayor Lyn Truitt. "Taking a leadership role in developing solar technology fits exactly with our vision of Surprise."
SolarCity will host six solar seminars in Phoenix, Scottsdale and Surprise on Sept. 20 and 27. Residents are encouraged to join others in the community to learn more about Greening Greater Phoenix Powered by SolarCity. The instructor will cover the basics of solar and take questions from the audience about available government rebates, the home installation process and potential cost savings achievable with clean, solar power.
To find a seminar in your area or to RSVP online, please visit www.solarcity.com/events. To RSVP by phone, please call 1-888-SOL-CITY (1-888-765-2489). Scheduled seminars by date and location:
September 20
Phoenix - Hyatt Regency Phoenix, 10:00 AM - 11:00 AM,
Scottsdale - Granite Reef Senior Center, 10:00 AM - 11:00 AM
Surprise - Rio Salado Lifelong Learning Center, 10:00 AM - 11:00 AM
September 27
Phoenix - Hyatt Regency Phoenix, 10:00 AM - 11:00 AM
Scottsdale - Granite Reef Senior Center, 10:00 AM to 11:00 AM
Surprise - Maricopa Northwest Regional Library, 10:00 AM - 11:00 AM
The Greening Greater Phoenix Powered by SolarCity announcement preceded 'Building the Green Business Case', a forum jointly hosted by GPEC, Arizona Association for Economic Development, GreenSummit and U.S. Green Building Council Arizona Chapter. Solar and green building experts discussed trends and the adoption of sustainable practices. The event also served as the kickoff to the 2008 GreenSummit conference and tradeshow on September 5 - 6 at the Phoenix Convention Center.
For more information, visit www.greeninggreaterphoenix.org.
About the Greater Phoenix Economic Council (GPEC)
A true public/private partnership, GPEC is the regional economic development organization for Greater Phoenix. Working with its 18 member communities, Maricopa County and more than 140 private investors, GPEC attracts quality businesses to this dynamic region. By creating a high-performance economy through capital investments and jobs, Greater Phoenix companies enjoy a business climate where they can compete and thrive in today's global economy. Since 1989, GPEC has worked to achieve an economically sound and sustainable region. For more information about GPEC, visit www.gpec.org.
About SolarCity
SolarCity matches advanced solar power technology with a suite of installation services. The company's comprehensive offering removes the technical, regulatory and financing barriers to solar power, helping customers make smart renewable energy choices that can save money. Boasting the industry's most experienced team in solar system design and installation, and a proven track record of bringing new technologies to market, SolarCity is uniquely positioned to make solar power a practical choice for homeowners and businesses. SolarCity serves communities in California, Oregon and Arizona. Additional information about the company is available on the Web at www.solarcity.com.
# # #
Featured Product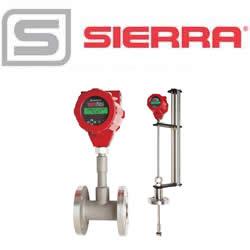 Sierra was the first to introduce a combination volumetric vortex and multivariable mass flow meter in 1997. Today, Sierra's completely redesigned InnovaMass® iSeries™ 240i/241i builds on two decades of success measuring five process variables for gas, liquid and steam with one connection. Now, with the latest hyper-fast microprocessors, robust software applications, field diagnostic and adjustment capability, and a new state-of-the-art flow calibration facility, Sierra's vortex iSeries delivers precision, performance, and application flexibility never before possible.