The Garnaut Climate Change Review report delivers a way forward for Australia to lead the world in the development of an emissions trading system that will be an important part of a global response to climate change, according the WA Sustainable Energy Association Inc. (WA SEA).
"Responding to climate change is critical. The single largest concern of climate change driven by global warming will be the sudden changes that occur. We have already seen one very clear abrupt climate change event in Western Australia - the loss of rainfall in WA in the mid 1970s, and with potentially a second step at the end of the last decade. Climatic changes are already leading to the elimination of the northern wheatbelt as a wheat growing area, the demise of the best grape growing regions in the south-west is likely to follow. And abrupt climate change will cause havoc not just in our agricultural systems," explains Dr Ray Wills, Chief Executive of WA SEA.

"And the biggest danger from the ongoing work on the science of climate change is not 'pessimism' but the reverse - science is inherently conservative. It is likely future forecasts of climate impacts will be greater, not smaller, just as has occurred in the last six years. Interim targets set conservatively now are almost a guarantee of doing too little, of creating measures that are simply too small," says Dr Wills.
"The supplementary report released by Garnaut deals solidly with a broad range of concerns raised by the community, business and governments, and shows a way forward," says Dr Wills.
"Claims that an emissions trading system will damage Australia's economic development simply do not add up in dollar terms, and recent reports on the growth in investment is a clear indication the development of an ETS will not stop growth. A combination of an emissions trading system, paired with direct incentives for industry and the community to reduce emissions through both energy efficiency and procurement of lower emissions energy, will actually diversify the economy and create a more robust environment for business and a more sustainable economy. This mix will in fact reduce inflationary pressures that would otherwise occur through spiralling fossil fuel prices," says Dr Wills.
WA Sustainable Energy Association Inc. (WA SEA) Media Release - 5 September 2008
Media Contact:
Dr Ray Wills 0430 365 607
Editors notes:
1. Dr Ray Wills has had a wide-ranging career at different times as researcher, planner, adviser, manager and academic and has substantial expertise and experience across diverse fields including resources and energy, sustainability, and climate change science. Ray is recognised by business, government and community leaders in WA as an authoritative commentator on sustainability and policy and functional responses to mitigate and adapt to global warming. Ray is CEO of the WA Sustainable Energy Association Inc. (WASEA), the peak body for the sustainable energy industry in Western Australia, the Principal of Future Smart Strategies, an Adjunct Senior Research Fellow with the School of Earth and Geographical Sciences at the University of Western Australia, and a Fellow of the Australian Institute of Energy.
2. The Western Australian Sustainable Energy Association Inc. (WA SEA) is a chamber of businesses variously promoting, developing and/or adopting sustainable energy technologies and services that minimise the use of energy through sustainable energy practices and maximise the use of energy from sustainable sources. WA SEA is supported by a growing membership of 180 industry members from a diversity of businesses. www.wasea.com.au
Featured Product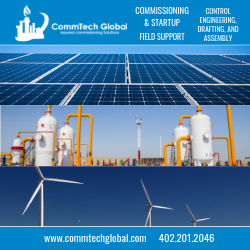 CommTech Global Solutions, LLC, provides professional and reliable commissioning services to customers in all realms of the energy industry. We blend our skills in engineering and technology with innovative business models, offering a complete range of services to assist you for a successful and in compliance operational startup. Consolidation of all our service domains gives our clients a comprehensive set of expertise and far-reaching experience on each project.