FOR IMMEDIATE RELEASE: Proven Energy, the worldwide leading provider of robust, reliable wind turbines announces the appointment of Engysol NV as a distributor in the Caribbean.
Rising electricity costs are seeing businesses and residential owners looking for alternative solutions. Aruba, where Engysol NV is based suffers from high electricity costs and could see this repeated throughout the whole Caribbean. Aruba has a dependency on oil to produce electricity. With the rising cost of oil this is having a direct impact on energy users having to pay the escalating fee for power. Engysol is proud to offer a cost-effective, sustainable energy solution for the Caribbean.

"With our strong background in renewables, resellers want to align themselves with a product that has a history of being constantly reputable in the market place" said Andrew McMullan, CEO of Proven Energy.
"Engysol NV has committed to the environment by providing customers with wind turbines at a realistic price" says Freddy Vargas, Director of Engysol "Key benefits for customers wanting to produce their own electricity include, an estimated payback of around five years, beating inflation energy costs, the possibility of selling excess energy back into the grid where net metering is available and reducing your carbon footprint." Vargas goes on to add "The Caribbean has vast opportunities for producing renewable energy by harnessing the wind. Where I see the most potential for Proven Energy wind turbines is domestic, agricultural and the tourism & leisure industry".
Dugald Butler, Proven Energy's International Export Sales Manager says "our business is dependent on its channel partners so choosing the right reseller is crucial in our success. I am delighted to have Engysol working as a Proven Energy reseller in the Caribbean".
Proven Energy has a unique technology which is the result of 27 years of innovative research and development. Key to the design is the ability to survive high wind speeds while continuing to produce electricity, unlike many manufactures that need to be switched off. The Proven blades fold backwards to protect it from harsh, extreme weather conditions while still producing power.
Proven Energy has 3 wind turbine models available, 2.5kW, 6kW & 15kW all suitable for domestic, agricultural or small to medium business. It is possible to install more than one turbine in order to generate sufficient power for larger businesses. Renowned for quality and durability Proven Energy wind turbines are generating electricity in the extreme cold of the Arctic Circle and in the heat of the Saudi Arabia desert.
Visit Engysol at Expo CAS on the 12th, 13th & 14th September at the Renaissance Convention Centre, Aruba. The event is focused on construction, remodelling and real estate.
- ENDS -
NOTES TO EDITORS:
About Proven Energy
Proven Energy is the world's leading supplier of small scale wind turbines. Its high performance turbine design is the result of almost thirty years of inspiration, innovation and development. The first functioning wind turbine was installed in 1993.
Proven Energy is based in the West of Scotland, India and the USA.
Proven Energy has 25 years expertise in the renewables sector and will always be delighted to comment on issues relating to small scale wind.
Today, Proven Energy is the world's market leader in the small scale wind sector and has manufactured and installed over 1700 turbines worldwide… and counting!
For more information please contact:
Samantha MacKellar
Marketing Executive
Proven Energy
The Torus Building
Rankine Avenue, Scottish Enterprise Technology Park
East Kilbride
Scotland, UK
G75 0QD
Phone: + 44 (0) 1355 597 017
Email: samantha.mackellar@provenenergy.com
Engysol NV
Freddy Vargas
Director
Salina Cerca 2A
Noord Aruba
Dutch Caribbean
Phone: +297 586 8399
Email: fred@engysol.com
www.engysol.com
Visit us at other sites:
www.provenenergy.com
www.15kwsmallwindturbines.com
Our vision is to be the world's leading provider of small wind turbines
Featured Product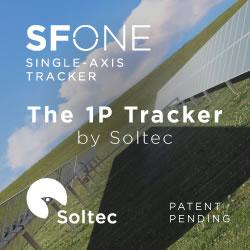 Soltec manufactures and supplies solar trackers designed and proven for extreme climate conditions, which is an ideal solution for any region's environment. Soltec's trackers are self-powered, requiring no additional PV module or grid-powered connection. Bifacial modules collect energy on both the front and rear sides, capturing reflected irradiance from the ground surface under and around the tracker and from other modules. Depending on site conditions, bifacial yield-gain can reach +30 percent.