Longest-running 5kW SOFC system for remote, auxiliary & backup power
WESTWOOD, Mass., September 8, 2008 - An Acumentrics Corporation fuel cell system has exceeded 10,500 hours of operation to become the longest-running small scale solid oxide fuel cell (SOFC) system.

"This demonstration of durability is an important step in proving the compelling value proposition of the tubular SOFC to customers who are using far less efficient technologies," said Acumentrics President and CEO Gary Simon.
The 5kW tubular SOFC system, designed to provide stationary, auxiliary and backup power for commercial, industrial and military applications, began operation at Acumentrics' Westwood, Mass. facility in July 2006 as a demonstration that the technology could meet the US Department of Energy's (DOE) Solid State Energy Conversion Alliance (SECA) minimum performance targets. After meeting or exceeding all targets in tests at the National Energy Technology Lab in Morgantown, W. Va., the unit was shipped back and restarted at Westwood.
Recently, Acumentrics received a $15.6 million DOE award to continue advancement of the company's tubular solid oxide fuel cell (SOFC) technology.
"This particular unit has continued to operate within the specified operating parameters for well over a year and has been subjected to real world conditions including several power cycles and transportation to different locations," Simon reported. "It is now being disassembled to inspect all components, after which it may be reassembled and continue to accumulate runtime hours."
In parallel with development of the 5kW system, Acumentrics is preparing to bring a 1kW residential SOFC micro combined heat and power (mCHP) system - the first fully enclosed residential CHP unit - to market. The system operates on natural gas and is designed to meet the power and heating needs of an average-size European home using a 1 kilowatt solid oxide fuel cell (SOFC) in combination with a 24 kilowatt condensing boiler. A fully functional prototype was demonstrated to potential utility partners in Germany in October 2007.
About Acumentrics
Acumentrics Corporation's (http://www.acumentrics.com/) unique, durable, fuel-flexible tubular ceramics-based fuel cell technology has exceeded performance standards in U.S. Department of Energy Solid-State Energy Conversion Alliance (SECA) Phase I tests. It has demonstrated the ability to operate for 1000 hours on conventional JP-8 fuel and became the first biogas-fueled SOFC system in an installation at the innovative GlashusEtt environmental information center in Stockholm, and received a 2007 New England Innovation Award from the Smaller Business Association of New England. The company also provides rugged, uninterruptible power supplies (UPS) to the military and other mission-critical markets.
Featured Product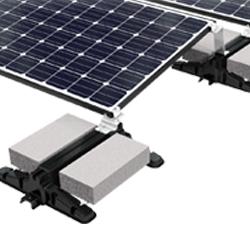 Preformed Line Products introduces the POWER MAX Ballasted Roof Mounting System. The POWER MAX solar mounting system is engineered to maximize energy output on commercial flat roofs. Developed with the professional installer in mind, this system offers adjustable inter-row spacing in the field of up to 11 inches. It features 50% fewer components and a simplified design resulting in faster assembly rates and labor savings on every project. Available in a flush mount, 5˚ or 10˚ tilt or higher density dual tilt design, the POWER MAX base arrives stacked on pallets providing easier transport to the roof. Engineered as a fully ballasted, non-penetrating system, it accepts standard concrete blocks and is qualified by wind tunnel testing.