ENREG ENERGIA REGENERABILA®, March 26 - 28, 2009 - Expo Arad International
One of the most imperative tasks of global energy and environmental policy is the provision of renewable energies; more and more countries are discovering just how important this issue is, especially in southeastern Europe. This is just one of the reasons why trade fair and conference organizer REECO RO Expozitii SRL will host the ENREG ENERGIA REGENERABILA® from March 26-28, 2009 as part of an effort to continue their growth in this region. This is the second international trade fair for renewable energies and energy efficiency in Romania organized by REECO after the RENEXPO® South-East Europe in Bucharest.

For the first time ever, the ENREG ENERGIA REGENERABILA® will bring multipliers and stakeholders together at one central event in southeast Europe from March 26 - 28, 2009 in Arad. Around estimated 70 exhibitors will present the entire spectrum of renewable energies and energy efficiency to some 1,500 anticipated business visitors, including manufacturers, planners, energy suppliers, R&D experts, organizations, media, ministries and authorities.
Up until recently, the use of renewable energies was nearly exclusively limited to hydropower; biomass, geothermal and solar energy are used only for heat production in private households, and main energy sources still include natural gas, oil and coal. The truth is that all renewable energy sources, including such as wind and hydropower, biomass, as well as geothermal and solar energy, hold vast amounts of unemployed potential for both power and heat generation.
With its central location in southeast Europe, Romania is a prime setting for approaching other countries in the region. The city of Arad is an ideal trade fair location due to its convenient location in the "border triangle" between Romania, Hungary and Serbia - and boasts the third-largest convention center in Romania. Noticeable market impulses that started in Romania can be expected to be seen throughout all of southeast Europe.
Featured Product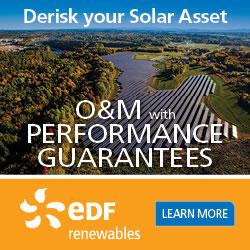 EDF Renewables offers the same innovative solutions that maximize the performance of our own 5.2 GW of installed projects. Because we're not an equipment manufacturer, our recommendations are transparent and data-driven. We cover the entire project lifecycle: from pre-commissioning support, through warranty and post warranty operation, to late stage and decommissioning.