ICP Solar Partners with San Francisco-based Eight Inc. to drive solar innovation in portable power category. Apple's design partner brings unique capabilities to solar power market
ICP Solar Partners with San Francisco-based Eight Inc. to drive solar innovation in portable power category

Apple's design partner brings unique capabilities to solar power market
ICP Solar Technologies Inc. (OTCBB:ICPR, FRANKFURT:K1U), a developer, manufacturer and marketer of solar panels and products, today selected Eight Inc. to help drive innovations under the rejuvenated iSun® brand.
Eight Inc. has been selected by ICP Solar Technologies to help create new high-end solar solutions for active urban customers. Eight Inc. is a recognized leader in its field - specializing in creative retail environment and design innovation for technology leading companies. Their worldwide clients include Apple Stores, Nokia, Virgin Airways, and Coach.
"Our solar brands combined with high end solar engineering allow us to enthuse ourtarget audience with cool and inspirational products. Eight Inc. is recognized internationally as an innovator in the landscape of architecture and design and has robust experience in specialized design for worldwide brands. Eight Inc. will help to attract this audience which is living in a mobile and digital environment and should seamlessly embrace mobile solar chargers" says Laurent Lafite Vice President Marketing & Business Development for ICP Solar. "We are thrilled to be working with Eight Inc. to invent new customer interfaces and take the ultimate solar experience to the next level," added Lafite.
"ICP Solar is engaged in strategic development for new vertical downstream markets, and we look forward to a long and productive relationship with Eight Inc. as ICP Solar continues to create new distribution channels with emerging mobile solar applications, as we have done with the Sunsei® brand in more than 50 countries. Sunsei® solar products are the most innovative and reliable products of their kind. Their modularity, reliability and design will be quickly embraced and become a part of everyone's lifestyle experience," said Sass Peress, CEO and Chairman of ICP Solar Technologies.
About ICP Solar Technologies, Inc.:
ICP Solar is a developer, manufacturer and marketer of solar panels, solar cell based products, solar monitoring software and solar power management solutions. Through the application of its own intellectual property and next-generation technologies, the Company aims to be the solar industry's innovation leader. For the past 19 years, ICP Solar has been a lead innovator in the consumer solar market and has now begun to apply that same innovation philosophy to the OEM, rooftop and power generation segment of the solar industry. ICP Solar's management has over 50 years of experience in the renewable energy sector. ICP Solar markets its products under its Sunsei® brand of solar products and is the North American licensee of the Coleman®brand in the solar charger category. ICP Solar is also helping the environment by offering these solar technologies and green solutions to the renewable energy sector. The company's headquarters are located in Montreal, Canada, with an R&D center in St. John's Canada and additional locations in the USA, Ireland, France and the UK.
Corporate information may be found at www.icpsolar.com
About Eight Inc.: Founded in 1989, Eight Inc. is an architecture and design studio creating Environments, Products and Communications that provide simple, honest and relevant solutions to the unique design needs of each client. With offices in San Francisco, New York and Honolulu, Eight Inc. is recognized internationally as a leader in architecture and design, and has won distinguished awards for clients such as Apple, Coach and Virgin Atlantic Airways.
Corporate information on Eight Inc. Agency may be found at www.eightinc.com
The forward-looking statements herein include, but are not limited to, the expected expansion of our solar solutions into Europe Middle East, Asia and Africa. Our actual results may differ materially from those implied in these forward-looking statements as a result of many factors, including, but not limited to, overall industry environment, customer acceptance of our products, delay in the introduction of new products, further approvals of regulatory authorities, adverse court rulings, production and/or quality control problems, the denial, suspension or revocation of permits or licenses by regulatory or governmental authorities, termination or non-renewal of customer contracts, competitive pressures and general economic conditions, and our financial condition. These and other risks and uncertainties are described in more detail in our most recent SB-2 filing with the Securities and Exchange Commission. Forward-looking statements speak only as of the date they are made. We undertake no obligation to update or revise such statements to reflect new circumstances or unanticipated events as they occur, except as required by applicable laws, and you are urged to review and consider disclosures that we make in the reports that we file with the Securities and Exchange Commission that discuss other factors germane to our business.
Featured Product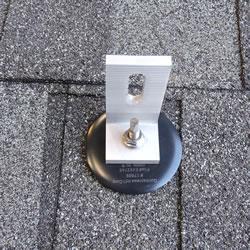 SolarRoofHook's Low Profile QuickBOLT with Microflashing™ is the industry's affordable, UL Certified Asphalt Shingle mounting system. The Microflashing™ is compressed by the collar on the bolt to create a water-tight seal. With an installation time of less than one minute, the Low Profile QuickBOLT allows installers to complete more jobs.