Greenwood Technologies Expands Production to Satisfy Growing Demand for Energy Independence
BELLEVUE, Wash. (September 10, 2008) --Innovative outdoor wood boiler manufacturer, Greenwood Technologies, of Bellevue, Wash., has expanded its production line for the second time in 2008. The company has exceeded its sales projections for the third quarter of the year and is experiencing continued demand for high-efficiency outdoor wood boilers.

In contrast to the traditional wood boilers that have made headlines, Greenwood outdoor wood boilers are more efficient and produce approximately 80 percent less wood smoke.
"High-efficiency outdoor wood boilers help consumers gain energy independence," said Thomas Eckmann, CEO of Greenwood. "Using firewood to produce heat and hot water is a good way to help the country wean its dependence from foreign oil."
Due to record demand for wood boilers, Eckmann reports that Greenwood is working with strategic partner Pro-Fab Industries, Inc. to add another production facility to its manufacturing capacity. Greenwood acquired the rights to several of Pro-Fab's product lines in January 2008, marking yet another major growth milestone for the clean burning, renewable heating solutions company (www.GreenwoodUSA.com).
"We are working diligently to keep up with demand," notes Michael Kuehner, vice president of Greenwood. "High oil prices are keeping our sales brisk and production lines humming, requiring us to accelerate the addition of production capacity well ahead of schedule."
The company is doubling the production of several of its most popular models and sizes, including the Greenwood® Aspen Series outdoor wood boilers. Kuehner anticipates company sales will remain strong through the winter heating season.
"Homeowners are now beginning to accept that fuel prices are not coming down and are seeking solutions now, and for the long term," added Kuehner. Greenwood's wood boilers are designated by the U.S. Environmental Protection Agency to meet strict voluntary emission standards (www.epa.gov/woodheaters). They are sold with an orange hang tag.
Pro-Fab has facilities in Canada and in Mexico. Pro-Fab manufactures Greenwood appliances in both locations. Greenwood only sells products that are clean burning. "The quality of the Pro-Fab manufacturing process is exceptional in both plants, and we are delighted that they have the capacity to support our growth," notes Kuehner.
The history of Pro-Fab Industries dates back to the introduction of the first Cozeburn pellet stove in 1989. Since then, the company has been manufacturing outdoor boilers and other heating products. Pro-Fab manufactures and sells products all over the world.
About Greenwood Technologies, LLC
Greenwood Technologies is a clean-burning, renewable heating solutions company located in the Pacific Northwest. The Greenwood Technologies high-efficiency wood and biomass boilers are available through dealers and retailers across the United States and Canada. More information is available at (800) 959-9184 or www.GreenwoodUSA.com.
Featured Product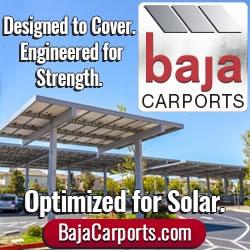 Baja Carports offers an extensive solar support system product line customized to customers' site specifications by in-house engineers, meeting their parking lot coverage, plus optimal PV production needs. Baja's Full Cantilever Tee is often paired with its Semi and Full Cantilever carports to meet live/loads up to 60psf and wind speeds to 160mph. All Baja products are pre-fabricated, bolted connections, pre-galvanized structural steel for fast on-site installation and project aesthetic requirements."