Today on Capitol Hill, key leaders of the Senate, UN, Bush administration, Renewable Energy and Energy Efficiency Partnership (REEEP), and other sustainable energy experts met to discuss energy justice and the alleviation of both poverty and climate change through sustainable energy solutions.
Energy justice strives to stem the death and sickness of millions of individuals annually from the inefficient burning of biomass for cooking, heating and lighting and to bring appropriate energy technologies to the more than 2 billion impoverished people across the developing world without access to modern energy services.

Increasing access to cleaner cooking technologies and energy resources, especially for the poorest and most vulnerable members of society, has the potential to substantially improve health, poverty alleviation, environmental sustainability, education, and gender equality in developing countries. It also may help address a growing recognition of the global warming impact of black soot, a primary byproduct of the inefficient burning of biomass for energy.
Appropriate energy technologies and the efficient use of energy will play a critical role in achieving energy justice, because they offer decentralized solutions that are available to everybody. Dr. Lakshman Guruswamy, Director of the Center for Energy and Environmental Security at the University of Colorado, stated "U.S. energy and foreign assistance laws and policies can be strengthened to better facilitate energy justice by, for example, specifically providing and leveraging technical and capital assistance for the development and deployment of appropriate energy technologies in developing countries."
The United States is keen to play a leading role in support of energy justice. Senator Ken Salazar, Member of the Senate Committee on Energy and Natural Resources and Chair of the event, Senator Richard Lugar, Ranking Member and Former Chairman, Senate Foreign Relations Committee, and Under Secretary Paula Dobriansky, U.S. State Department, Democracy and Global Affairs, all spoke about the important role of the United States in reducing poverty globally by accelerating the deployment of renewable energy and energy efficiency measures.
The UN and partnerships like REEEP play a crucial role in facilitating energy justice. Dr. Kandeh Yumkella, Director-General, UNIDO, and Chair, UN Energy and Dr. Marianne Osterkorn, International Director of REEEP, highlighted their contributions in this regard.
"Energy justice can be achieved by directing foreign investment into renewable energy and energy efficiency projects in the developing world. Attracting investors, both foreign and domestic, public and private, requires supportive regulatory frameworks that minimize risk and utilize innovative finance tools - both of which are facilitated by our partnership," stated Dr. Osterkorn.
Featured Product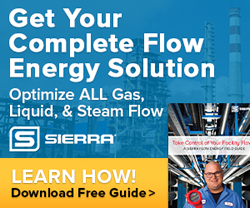 Download Flow Energy Guide - Written by Engineers For Engineers. Learn how to save on energy costs by optimizing your facility flows that impact costs like compressed air, natural gas, steam, and hot or chilled water.