PR, London, 22/09/2008: The UK, a frontrunner in the field of tidal energy research, is diligently working on its tidal power schemes.
For example, recently, the DTZ consortium was chosen to lead a study as part of plans to determine the potential feasibility of a tidal energy scheme in the Severn Estuary, which provides the largest potential of all of the UK's estuaries for renewable electricity generation.

If on one hand, there have been positive developments, on the other there are quite a few concerns, too. The concerns include growing overseas commitment to tidal energy in particular and attracting technology away from the UK; environmental concerns related to fundamental change in the nature of the Severn Estuary with projects like a large barrage or tidal lagoons. Plus, the UK Government's £42 million Marine Renewables Deployment Fund, too, has come under criticism this year.
In an effort to gauge the sentiment of the stakeholders, tidaltoday.com recently spoke to a few executives, who are scheduled to speak during the 2nd Annual Tidal Energy Summit 2008, to be held in London on 11-12 November this year.
First of all, in the context of an underwater turbine that generates electricity from tidal streams getting plugged into the UK's National Grid, the industry acknowledges that the production of electricity in itself is a positive development.
Specifically, considering initiatives in Scotland, a number of them have been taken to support the development of this sector. This ensured Scotland has the widest and most varied range of marine technologies being tested anywhere in the world.
Duncan Mackay, wave and tidal development manager, The Crown Estate says the pace of proposed development in the wave and tidal sector in Scotland is remarkable in comparison to the other parts of the UK.
"Firstly, the Strategic Environmental Assessment is in place for wave and tidal energy. Secondly, there is a one stop shop for the consenting process required to obtain the Section 36, FEPA and CPA consents and there is also a target time to process applications within nine months provided that no local planning inquiry is required. Thirdly, there is an anticipation that the ROC's for wave and tidal will be set higher in Scotland than other parts of the UK. In addition, the Saltire Prize, worth around £10M is surely bound to attract further development activity. All of these factors have combined to ensure that Scotland is well placed to cut through the red tape and attract marine renewable development into the area," Mackay told tidaltoday.com.
From National Grid's perspective, Ivo Spreeuwenberg mentioned that there are still many hurdles before this technology gains the current maturity level of wind turbines.
"The electricity industry is not structured in a way where a UK National Grid exists, as such. Instead, we have a Great Britain grid which is operated by National Grid and an all Ireland Grid which covers both parts of Ireland. Below these main Grids, called transmission networks, are the distribution networks which operate at lower voltages. It is likely that in the early stages of tidal stream development that it will be most economical for generators to connect to the distribution networks rather than transmission networks, as with the early connection in Northern Ireland," said Spreeuwenberg.
Evaluating the progress in the context of development cycles for companies, capital intensive investments or even a factor like risk management and funding opportunities, Alexei Janssen, director, Aquascientific Ltd said, "Of course, it (development) has been slower than people would have liked. We believe the private sector has done as much as it can consider the state of projects within their R&D timeline. We believe this would have been significantly improved if the government had invested much more money at the grass root level. Much of the money available has been on a match funded basis, and the private sector has been unwilling to invest at such an early state. Unfortunately, tidal energy is more akin to the early days of the nuclear power…the government needs to be much more proactive and looser in its criteria for early R&D."
With reference to building a project from scratch, Janssen said at the initial stages of product design, it is easy to get swallowed up in proving the efficiency of the device itself. Cost and survivability of infrastructure, life cycle routines and costs are often far more important than the device itself as these aspects consume much of the total cost of implementation.
"The fundamental design must be considered with the aim of minimising infrastructure and the ease of deployment. Those building a project from scratch are able to learn from the mistakes and findings from devices that are being tested at the moment. Energy companies are now evaluating these devices are often able to point out the pro and cons of each device from an end user point of view and consultation with them is essential before going ahead with any fundamental design," said Janssen.
This year there have been developments related to tidal devices, where a generator can operate in the shallow waters of Estuaries where the tides tend to be strongest, allowing the system to deliver low cost power close to areas of high demand.
Commenting on devices, that operate in around five metres of water to produce 100kW of power, Thomas Royle, Commercial Development Manager, Gurit, said for tidal devices generally, the economics of deploying the infrastructure (cabling, power conditioning & collection, grid connections, EIA's) are almost independent of size of device/farm, and thus make most sense if amortised over a large multi MW arrays.
"Logically, smaller devices would seem to have more application in less highly regulated environments (which adds costs) and more remote geographical locations feeding local communities. Thus in my opinion, if such devices can be connected direct to local power users or cheaply into a local grid and such devices are cheap to build and install without messing up the local ecology, then absolutely deploy them. The equivalent in wind energy terms is locating a single wind generator on a remote island. It's a cost effective solution to providing a local energy source," shared Royle.
"From a structural perspective, it is difficult to make general comments as every design is likely to have it's own challenges. However, River Estuary technologies imply a wide but shallow power take up area and will be in an environment where significant detritus will be caught within the ambient stream. Thus foils/blades will probably need to exhibit some flexural ability (to deflect large logs without breaking for example) whilst retaining high strength at their extremities," added Royle.
Each case, according to Royle, will clearly be different and thus should be engineered accordingly with the correct materials.
2nd Annual Tidal Energy Summit 2008
The 2nd Annual Tidal Energy Summit 2008 is scheduled to be held in London on 11-12 November this year.
For more information, click here: http://www.tidaltoday.com/tidal08/programme1.shtml
Or contact Abbie Badcock by email abbie@tidaltoday.com/ +44-207-375-7581
Featured Product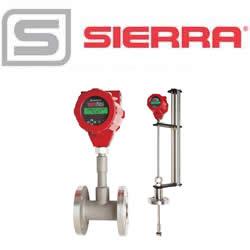 Sierra was the first to introduce a combination volumetric vortex and multivariable mass flow meter in 1997. Today, Sierra's completely redesigned InnovaMass® iSeries™ 240i/241i builds on two decades of success measuring five process variables for gas, liquid and steam with one connection. Now, with the latest hyper-fast microprocessors, robust software applications, field diagnostic and adjustment capability, and a new state-of-the-art flow calibration facility, Sierra's vortex iSeries delivers precision, performance, and application flexibility never before possible.