VAIREX corporation Announces Completion of 'A' Round Funding for £4million and Establishment of new parent company VAIREX international limited and Global headquarters in Cambridge, UK
VAIREX Goes Global:

Completion of ₤4 million 'A' Round Fundraising,
Establishment of VAIREX international limited as New Parent Company
and New Global Headquarters in Cambridge, UK
Cambridge, UK - September 23, 2008 - VAIREX international limited, the newly established UK parent company of VAIREX corporation, a well-known manufacturer of advanced air management systems for the diesel emission control and fuel cell industries, is pleased to announce the sucessful completion of a ₤4 million ($8 million) 'A' Round fundraising from London-based European venture capital firms, Entrepreneurs Fund LP and Conduit Ventures Limited, as well as a network of UK business angel investors.
VAIREX will be investing the funds in enhanced engineering, product development and pilot production facilities, and in expanding the enlarged group's global presence.
VAIREX's global corporate headquarters have been established in Cambridge, UK to capitalise on the commercial and development opportunities available in a region regarded as a hotbed for high-tech and cleantech companies. Cambridge also offers strategic advantages, allowing VAIREX improved access to its European client base and providing a centralised location between its Asia-Pacific and North American customers and operations. The VAIREX Sales and Customer Support offices are now located in Cambridge UK, Boulder Colorado US, and Tokyo Japan. The Research & Development and Pilot Production facilities will continue to be located in Boulder.
VAIREX advanced air systems consist of restrained vane compressors and regenerative blowers with integrated motors and controllers. These very efficient air systems are critical components in hydrogen fuel cell and diesel particulate filter burner systems.
VAIREX customers are leading hydrogen fuel cell and diesel engine OEMs and Tier 1 suppliers who develop and sell products for the global combined heat and power, industrial electric vehicle, backup and prime power generation, and automotive markets.
Ski Milburn, chief executive officer and chief technology officer of VAIREX international, commented:
"This robust cash infusion provides a major opportunity for VAIREX international, its customers, suppliers and staff to continue developing groundbreaking technology and energy-efficient products for the emerging hydrogen fuel cell and diesel emissions products markets.
We are eager to expand dramatically on a global level, to engage in full-scale production, and to work closely with our impressive portfolio of world-class customers who are keen to launch innovative new products using our proprietary technology."
Dennis Brenninkmeijer, Investment Manager of Entrepreneurs Fund LP, commented:
"We are very pleased to have led the 'A' Round fundraising efforts of VAIREX. We believe the Company presents exciting opportunities in the progression of the diesel emission control and fuel cell markets. Backed by a strong management team, we believe VAIREX international has a long and bright future ahead of it and look forward to a close involvement with the Company going forward."
-Ends-
For further information:
UK enquiries:
Vikki Krause, Hansard Group +44 (0)20 7245 1100, Vikki@Hansardgroup.co.uk
US enquiries:
Susan Westfall, Westfall Communications, +1 303 284 4087, WestfallCommunications@comcast.net
ABOUT VAIREX
VAIREX international limited (www.vairex.com), with headquarters in Cambridge UK, and offices in Boulder Colorado US and Tokyo Japan, is a privately held designer, manufacturer, and supplier of air management systems. These critical and efficient systems, consisting of integrated compressors, motors, and controllers, deliver clean air in hydrogen fuel cell and diesel emissions control devices. The Company's customers include leading Tier One suppliers and OEMs to the fuel cell and diesel industries in Europe, Asia, and North America.
ABOUT ENTREPRENEURS FUND
The Entrepreneurs Fund (www.entrepreneursfund.com) is the venture capital member of the COFRA Group, a global, family-controlled group of businesses. The Entrepreneurs Fund has €100 million under management, which it invests in early stage and growth companies owning strong technology/IP, with a focus on Europe. Sectors of interest include life sciences, material sciences, automotive related technologies and water technologies. The Entrepreneurs Fund is an active investor working closely with outstanding management teams in developing their businesses. The Entrepreneurs Fund brings the long-term perspective, experience and global outlook of a family business in its 5th generation. Successful exits of the fund include Celtel and REC. The latter, together with the investment in Q-Cells, have resulted in the creation of a separate investment fund, Good Energies, focussing on the renewable energy industry.
ABOUT CONDUIT VENTURES
Conduit Ventures (www.conduit-ventures.com) is an energy venture capital fund specializing in high-efficiency energy storage and generation, with a particular interest in hydrogen, fuel cells and supporting low-carbon technologies. Founded in 2001, Conduit Ventures is headquartered in London, UK. In addition, Conduit Ventures has a Joint Venture management office in Shanghai, China with the Shanghai Science and Technology Investment Corporation (SSTIC).
Featured Product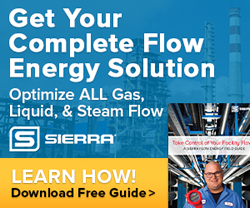 Download Flow Energy Guide - Written by Engineers For Engineers. Learn how to save on energy costs by optimizing your facility flows that impact costs like compressed air, natural gas, steam, and hot or chilled water.