Venture Capital Expert, John Cavalier of Hudson Clean Energy Partners, Offers His Take on Trends in Green Technology
POINT ROBERTS, Wash., Delta B.C., September 24, 2008 - www.InvestorIdeas.com, one of the first online investor resources providing in-depth information on renewable energy, greentech and water, provides interested investors a recent audio interview with Venture capital expert, John Cavalier of Hudson Clean Energy Partners.

Investorideas.com Green Investor Audio Series
http://www.investorideas.com/gi/
Podcast Summary: Venture Capital Expert Offers His Take on Trends in Green Technology
John Cavalier founded the renewable energy practice at Credit Suisse, and he's been a banker in the energy sector for more than 25 years. Now he's with Hudson Clean Energy Partners, a venture capital fund that invests in late stage renewable energy companies. In this interview, he offers his take on some key trends in the sector.
Mr. Cavalier reports, "What we focus on first and foremost is the management team .The sectors like wind and solar have had a spectacular growth rate. That growth rate can cause as many problems as it does provide opportunities. For example, wind has been growing at 35-50% a year- so now you have very significant turbine shortages. PV has grown at the same pace and you have real shortages in silicon. Silicon has gone from $25 a Kilogram three years ago, to $400 a kilogram."
What it means is - that those management teams that were not planning and did not access their resources early on are going to be at a very severe cost disadvantage going forward. The growth rates in these companies are difficult to manage too. So the quality of the management is extremely important.
In solar you have some great CEO's at the helm of SunPower Corporation (SPWR), Suntech Power Holdings Co. Ltd. (STP) and First Solar, Inc. (FSLR).
To hear the full Audio file: click here:
http://static.investorideas.com.s3.amazonaws.com/podcasts/2008/gi092308.mp3
About Michael Brush:
Michael Brush writes a weekly market column for MSN Money. Mr. Brush has also covered business and investing for the New York Times, Money magazine and the Economist Group.
Michael also writes the Insiders Corner exclusively for Investorideas.com.
About Hudson Clean Energy Partners:
http://www.hudsoncep.com/
Hudson Clean Energy Partners is a private equity firm investing in renewable power, alternative fuels, energy efficiency and storage.
The Hudson investment team has more than 50 years of combined industry experience, led by Neil Auerbach, Managing Partner. Neil is a former Goldman Sachs partner who cofounded the US renewable energy investment effort at Goldman and led many of their most successful clean energy transactions.
About Our Green Investor Portals:
www.RenewableEnergyStocks.com is one of several green investor portals within Investorideas.com and provides investors with stock news, exclusive articles and financial columnists, audio interviews, investor conferences and a directory of stocks within the renewable energy sector.
Renewable Energy and GreenTech Business and Stock News RSS Feed:
http://www.investorideas.com/RSS/feeds/RES.xml
The Global Green Marketplace at Investorideas.com - a meeting place for investors and business in cleantech: http://www.investorideas.com/marketplace/. Companies and accredited investors are invited to register.
Green Investor Sponsors:
Featured Showcase Solar Company XsunX (OTCBB: XSNX): Based in Aliso Viejo, Calif., XsunX is developing amorphous silicon thin film photovoltaic (TFPV) solar cell manufacturing processes to produce TFPV solar modules. To deliver its products the Company has begun to build a multi- megawatt TFPV solar module production facility in the United States to meet the growing demand for solar cell products used in large scale commercial projects, utility power fields, and other on-grid applications. Employing a phased roll out of production capacity, it plans to grow manufacturing capacities to over 100 megawatts by 2010. More info on XsunX, Inc. can be found on our media profile at: http://www.investorideas.com/co/xsnx/default.asp or http://www.xsunx.com/
Featured Showcase Mantra Venture Group Ltd. (OTCBB: MVTG-FSE: EDV 5MV) Mantra, through its group of sustainable energy, carbon reduction and consumer product subsidiaries, is active in the green technology marketplace with an innovative, multi-faceted approach focused on profitability through sustainability. By aggressively seeking out new technologies and innovating solutions for a cleaner earth for everyone, Mantra intends to provide a highly profitable and environmentally responsible investment for its shareholders. More info can be found on Investorideas.com at the company showcase http://www.investorideas.com/CO/MVTG/ or at the company website http://www.mantraenergy.com/
Featured Green Companies are showcased on: www.Renewableenergystocks.com. For disclaimer and disclosure visit: www.InvestorIdeas.com/About/Disclaimer.asp
About InvestorIdeas.com:
"One of the first online investor resources providing in-depth information on renewable energy, greentech and water sectors." InvestorIdeas.com is a leading global investor and industry research resource portal specialized in sector investing covering over thirty industry sectors and global markets including China, India, Middle East and Australia.
Disclaimer: Our sites do not make recommendations. Nothing on our sites should be construed as an offer or solicitation to buy or sell products or securities. We attempt to research thoroughly, but we offer no guarantees as to the accuracy of information presented. All Information relating to featured companies is sourced from public documents and/ or the company and is not the opinion of our web sites. This site is currently compensated by featured companies, news submissions and online advertising. www.InvestorIdeas.com/About/Disclaimer.asp
For Additional Information:
Dawn Van Zant: 800-665-0411 - dvanzant@investorideas.com
Source - Investorideas.com
Featured Product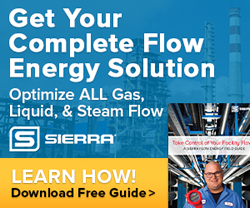 Download Flow Energy Guide - Written by Engineers For Engineers. Learn how to save on energy costs by optimizing your facility flows that impact costs like compressed air, natural gas, steam, and hot or chilled water.