Western Australia's energy market needs more reforms, not less, according to the Western Australian Sustainable Energy Association Inc. (WA SEA), the business chamber for sustainable energy industries in WA.
"Energy market reforms leading to the disaggregation of Western Power in 2006 were strongly supported by industry to create a competitive market, and those reforms are not yet complete," says Dr Ray Wills, Chief Executive of WA SEA.

"There is no doubt that Verve needs to charge more for the electricity it generates - the losses facing Verve are the result of successive Western Australian Governments failing to increase the price charged for electricity over a 16 year period, despite increases in costs faced by the utility, and in particular the cost of fossil fuel," says Dr Wills.
"The primary need is to bring on realistic increases in electricity prices that allows Verve to charge the real cost of generation. This is the most responsible action and is completely within the control of the Minister and the Barnett Government, particularly as a key step in on-going reform - full retail market contestability - has yet to be completed."
"In moving forward on energy reform, it is important that the Energy Minister Peter Collier consults with industry bodies including the WA Sustainable Energy Association as he looks to address this issue - in doing so, he will find strong support for his desire for the development of good energy policy for Western Australia," says Dr Wills.
"And a part of the fix needs to be supporting Verve, as well as other electricity generators, to ramp up use of Western Australia's massive renewable energy resources to diversify and grow Western Australia's sources of energy, and create a more robust environment for business and a more sustainable economy for the State," says Dr Wills.
WA Sustainable Energy Association Inc. (WA SEA) Media Release - 29 September 2008
Media Contact:
Dr Ray Wills 0430 365 607
Editors notes:
1. The Western Australian Sustainable Energy Association Inc. (WA SEA) is a chamber of businesses variously promoting, developing and/or adopting sustainable energy technologies and services that minimise the use of energy through sustainable energy practices and maximise the use of energy from sustainable sources. WA SEA is supported by a growing membership of over 190 industry members from a diversity of business interests. www.wasea.com.au.
Featured Product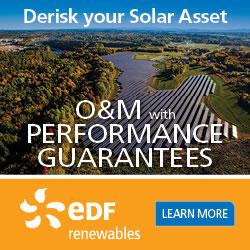 EDF Renewables offers the same innovative solutions that maximize the performance of our own 5.2 GW of installed projects. Because we're not an equipment manufacturer, our recommendations are transparent and data-driven. We cover the entire project lifecycle: from pre-commissioning support, through warranty and post warranty operation, to late stage and decommissioning.