Company Calls Reuse 'the Best Form of Recycling,' Decries Environmental Cost of Tossing 379 Million External Power Supplies Annually
WHO: Seth Socolow, VP of Business Development at Green Plug. Socolow was previously CEO for Telling Stories, Inc., a start-up in the user created content space. In 2000-2001, he served as the London-based European Marketing Manager for AltaVista, where he launched 17 country-specific search engines.. Prior to that, Socolow was Product Manager at Intuit for the UK and German versions of Quicken 2000. He holds a B.A. in International Studies from Vassar College and an MBA from Thunderbird School of Global Management.

WHAT: A new report from the federal government's General Accountability Office (GAO) faults U.S. regulators from failing to stop U.S. exports of electronic waste. "The Environmental Protection Agency has done little to curb the export of discarded electronic products containing hazardous waste, much of which ends up in poorly regulated countries and harms the environment and public health," the GAO said. As reported in The Washington Post, "U.S. authorities have yet to develop a national approach for handling the waste, which often contains toxic metals such as lead, mercury and cadmium. Amounts are rapidly growing as consumers replace their laptops, cell phones and televisions."
Green Plug is the first developer of digital technology enabling real‐time collaboration between electronic devices and their power sources. The company's innovative green power components allow manufacturers to standardize on one universal power connector and eliminate environmental waste. Consumer electronics, residential and commercial builders, power tools and power supply manufacturers license Green Plug's embeddable power supply technology to provide universal and safe connections, promote environmentally friendly reuse, make their products more affordable, and generate customer loyalty.
Says Green Plug's Socolow:
"The GAO report is a loud wake-up call. Proper disposal of e-waste should be a fundamental practice within both the public and private sectors. Efforts to recycle electronic products must be substantially improved - and we believe that reuse is absolutely the best form of recycling. From our perspective, the massive disposal of external power supplies is a neglected sidebar to the e-waste story.
"This year, 3.2 billion external power supplies will be designed, manufactured and shipped. A staggering two billion will end up in the world's landfills with as many as 379 million in U.S. landfills in 2008 alone. Today, power supplies are built to be dumped, not refurbished and reused. That's simply not acceptable. The status quo must change."
HOW: To speak with Seth Socolow, contact:
Bobbie Wasserman
Edge Communications, Inc.
310-305-4018
bobbie@wave2communications.com
Featured Product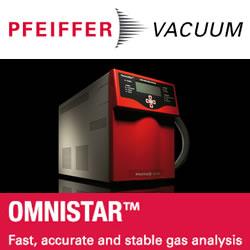 The Pfeiffer Vacuum OmniStar benchtop analysis system offers you a compact footprint, powerful software and Ethernet connectivity. It's the optimum solution for many real-time gas analysis applications. With the OmniStar, Pfeiffer Vacuum offers you a complete solution for gas analysis, in chemical processes, semiconductor industry, metallurgy, fermentation, catalysis, laser technology and environmental analysis. The turnkey OmniStar gas analysis system consists of heated, temperature-regulated gas inlet system, Quadrupole mass spectrometer, a dry diaphragm vacuum pump and HiPace turbopump. Unlike competing methods such as FTIR, OmniStar is suitable for qualitative and quantitative analysis of most gases.