Agreement pairs award winning green gutter filtration product with most versatile water storage product to provide a full RainWater Rescue solution
Jacksonville, OR, September 16, 2008: GLI Systems Inc. of Jacksonville, Oregon, manufacturer of the award winning, Cradle to Cradle certified RainTube Gutter Protection System, and Rainwater HOG LLC of Corte Madera, California, pioneers of innovative architecturally designed modular rainwater storage products, have agreed to jointly promote and market their products. Used together the products collect, filter and store rainwater effectively while imparting a building with the highest LEED credentials courtesy of innovative design and use of materials. The joint system is scalable, and can accommodate a range of applications from small domestic to large scale commercial rain storage. Food grade plastic in the HOG tanks means the collected water can be re-used in a number of applications including gardening, irrigation, toilet flushing, washing, emergencies and combined with proper purification, drinking. The alliance has trademarked this process Rainwater Rescue. RainTube and Rainwater HOG are market leaders in their respective product categories.

Many communities are experiencing water shortages and resource experts have been raising alarms for years about increasingly constrained fresh-water supplies. Rainwater harvesting, also known as water farming, is an ancient practice that is regaining popularity as traditional water sources become scarcer: The scalable nature of the Rainwater Rescue Solution means that rainwater can be rescued on a smaller scale initially, with a system that easily expands to a larger capacity when warranted. Even in dry climates, the efficient use of rainwater can provide up to 50% of the total water used. This practice saves valuable water resources and it is also effective at reducing polluted runoff at a local, individual level. Incorporating Rainwater Rescue strategies into new "green building" developments as well as existing homes and businesses is an easy and effective way to reduce the use of fresh-water resources. Green building, using ecologically sound methods for residential and commercial construction, has become a major area of interest and concern among consumers and the building industry worldwide.
Rainwater HOGs are attractive slim line rectangular water storage containers designed by Australian architect Sally Dominguez. The versatile products are engineered to fit into confined spaces, be built into the structure or even used as fencing or thermal mass. The clever modular design can stand alone in any orientation or be connected in series to store larger volumes. The largest installation of Rainwater HOGs to date is a 5,000 gallon internal wall of HOGs in lime green and white using the thermal mass of the stored rainwater to keep the building cool during the hot Australian summer.
GLI Systems which has gained Gold Level Cradle to Cradle Certification for its RainTube products will assist with the Certification application for the Rainwater HOG products. Cradle to Cradle Certification signifies the highest levels of exemplary product design and corporate responsibility, according to MBDC who administers Cradle to Cradle. Internationally recognized as the worlds leading environmental products certification organization, MBDC provides tools to assist in creating ecologically intelligent products and services.
RainTube is an effective, low-cost gutter protection system made in the USA from 100% post-consumer recycled materials. RainTube collects and filters water at the roof level and helps protect homes, apartments and commercial buildings from water damage from clogged gutters. It also reduces fire risk from gutter debris in compliance with new fire prevention building codes, reduces maintenance and increases clarity and efficiency of rain water harvesting systems. RainTube was awarded Sustainable Product of the Year in 2007 and 2008.
Steve Spratt, co-founder of RainTube, and Simon Dominguez, CEO of Rainwater HOG said in a joint statement "We are delighted to join efforts to expand the marketing reach of our respective products. RainTube and Rainwater HOG are perfect compliments to each other and form a complete, eco-friendly rainwater solution for property owners. Each product pushes the material and design boundaries of its segment. We believe that protecting and conserving our precious fresh water resources is vital. Rain water is free and surprisingly plentiful and by providing education along with attractive, functional, Rainwater Rescue products we hope to inspire people to understand and embrace water conservation in their personal lives. Meanwhile, both companies are committed to continue designing and developing new and innovative water solutions that are both eco-friendly and effective."
For further information, please contact:
Steve Spratt
GLI Systems Inc.
Phone: 541-261-0790
sspratt@aintube.com
www.raintube.com
Simon Dominguez
Rainwater HOG LLC
Phone: 415 891 8748
simon@rainwaterhog.com
www.rainwaterhog.com
Featured Product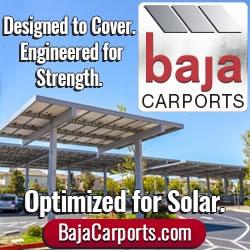 Baja Carports offers an extensive solar support system product line customized to customers' site specifications by in-house engineers, meeting their parking lot coverage, plus optimal PV production needs. Baja's Full Cantilever Tee is often paired with its Semi and Full Cantilever carports to meet live/loads up to 60psf and wind speeds to 160mph. All Baja products are pre-fabricated, bolted connections, pre-galvanized structural steel for fast on-site installation and project aesthetic requirements."