Flower Bed Energy has a patented new technology called flower bed tech. It uses all kinds of photovoltaic cells to produce the same amount of energy a solar panel systems would in 1/4 of the space. To some people this may not sound relevant but imagine...
Imagin
e what satellites would look like without the huge arms or how much power the can harness with 3/4 more the energy in the arms. This is just one of the applications Flower Bed Energy has applied their technology to, it runs well for smaller more potable military and commercial applications as well. Residential structures, and buisness will benefit greatly from this technology as well by reducing the amount of space it takes to power their unit, they can ad to it to completely eliminate their energy coast or they can even sell it the excess energy and have the system work for them. Flower Bed Energy is currently looking for an ally (solar cell manufacturer) to make the fist purchases of their new agenda. As well as a parent company or finical partner to contribute and share in the success of this new technology in the solar industry. If there was ever a great investment idea it is in the new oil, which is solar, and while companies in this industry are competing fiercely none can offer "The most energy for your space" for more information or partnership inquiries visit http://flowerbedenergy.com
Featured Product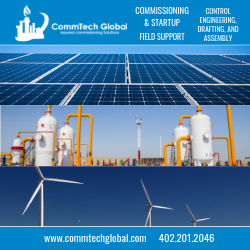 CommTech Global Solutions, LLC, provides professional and reliable commissioning services to customers in all realms of the energy industry. We blend our skills in engineering and technology with innovative business models, offering a complete range of services to assist you for a successful and in compliance operational startup. Consolidation of all our service domains gives our clients a comprehensive set of expertise and far-reaching experience on each project.