NanoDynamics Energy Inc. delivers two propane-driven solid oxide fuel cells (SOFC) operating at 35-percent efficiency and an 800 watt-hour per kilogram energy density for use in the Department of Defense Research & Engineering's (DDR&E) Wearable Power Prize competition.
NanoDynamics Energy Inc. has delivered two solid oxide fuel cells (SOFC) operating at 35-percent efficiency on propane for use in the Department of Defense Research & Engineering's (DDR&E) Wearable Power Prize competition.

The competition was held Sept. 22 to Oct. 4 at the Marine Corps Air Ground Combat Center in Twentynine Palms, Calif. Lockheed Martin led a team including NanoDynamics Energy and Quallion, LLC. The NanoDynamics Energy SOFCs were part of both a prize-eligible and a non prize-eligible hybrid solid oxide fuel cell (SOFC) system designed to address all competition parameters, including: 92 hours of autonomous, continuous operation at a 20-watt output; a weight of less than 4 kilograms (8.8 pounds); short-duration operation in an oxygen-depleted environment; and the ability to be mounted to a standard military vest and endure a final four-hour "walk-around" demonstration of portable power delivery.
"The fuel cells developed by NanoDynamics Energy for the competition are capable of producing more than 25 watts of power from propane fuel," said Dr. Caine Finnerty, V.P. of energy products at NanoDynamics Energy. "They incorporate our fourth-generation G4 fuel cell technology and partial oxidation reforming in an innovative stack design able to convert greater than 35 percent of the fuel's energy to electricity. In addition, their Balance-of-Plant requires only 3 percent of the total stack output."
"During the course of the competition the system successfully demonstrated an energy density of approximately 800 watt-hours per kilogram," Dr. Finnerty said. "Using the fuel capacity weight margin our technology afforded, it's feasible to attain a more than 1300 watt-hour per kilogram energy density at the target system weight of 4 kilograms."
"System weight was considered the key component in the Wearable Power Prize competition," Dr. Finnerty explained, "and our expertise in SOFC stack design and experience in SOFC packaging and system Balance-of-Plant, combined with the advanced battery technology and electronics and integration proficiency of our partners, enabled two highly competitive systems, weighing in at less than 2.4 kilograms each, to be submitted. In a brief six-month time period, our combined development efforts resulted in creation of a system that not only performed at exceptional efficiency, but was also in excess of 1.3 kilograms lighter than the one taking first prize in the competition."
Launched in July 2007, the 2008 Wearable Power Prize competition was designed by the DoD to address the need for long-endurance, light-weight power systems in dismounted war fighter applications. While 169 teams from across the U.S. registered to compete as of November 2007, 48 qualified for the competition and an ultimate group of what the DoD deemed as "the 20 most innovative, capable contenders" participated in the final event.
"We had the 'best of the best' competing at Twentynine Palms," said William S. Rees Jr., competition sponsor and deputy under the Secretary of Defense for Laboratories and Basic Sciences.
"This has been a defining opportunity for the NanoDynamics Energy team, as in addition to furnishing an ability for our technology to compete among America's leading power system developers, our work has significantly propelled internal efforts in the evolution of the company's solid oxide fuel cell design," said Glenn Spacht, chief technology officer at NanoDynamics. "It has also further demonstrated the 'real world' advantages of solid oxide fuel cell technology within the power generation industry."
For more information, log onto www.ndenergy.com or call +1-877-275-6369.
About NanoDynamics
Headquartered in Buffalo, N.Y., NanoDynamics, Inc. develops and commercializes technologies, materials and products that provide clean technology solutions for today's global challenges, with a principal focus on the application of nanotechnology-enabled solutions in the energy, environment, and infrastructure markets.
-# # #-
Featured Product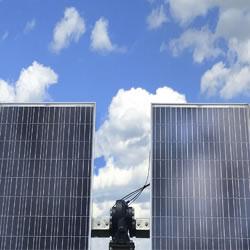 Solar FlexRack's latest solar tracker technology bundles an advanced tracker design with a full team of seasoned engineering and installation experts at your service. The next-generation solar tracker delivers a package of features that both enable increased energy yields for commercial and utility-scale solar installations, and significantly reduce project risks. That translates to smart installation cost-savings across your project budget.