Reclaim Resources Limited, the wholly-owned British-based developer and producer of innovative waste-to-energy solutions, has signed a contract with the Philippines to supply and install its complete ground-breaking waste-to-energy solution; the Vantage Waste Processor.
('Reclaim Resources' or the 'Company')

Reclaim Resources Limited, the wholly-owned British-based developer and producer of innovative waste-to-energy solutions, is pleased to announce that it has signed a contract with the local authority of the Province of Zambales, Philippines to supply and install its complete ground-breaking waste-to-energy solution; the Vantage Waste Processor ('VWP'). Under the agreement, the VWP will be accompanied by a full-scale bio-ethanol conversion plant. The total consideration of the deal is expected to be worth approximately £12m, pending final detailing. The sale is the first by Reclaim Resources of the VWP in the Philippines, and in addition, the Company is in final discussions with other local authorities.
The VWP is a patented technology offering a proven method of treating municipal household waste, transforming it into biomass ready for conversion into a range of energy resources including electricity and bio-ethanol. The VWP reduces raw, unsorted household rubbish by up to 60 per cent using thermal hydration; processing and sanitising waste material through an innovative 'continuous feed' rotating stainless steel chamber. Unlike many waste-to-energy strategies currently proposed, VWP is a clean, non incineration, non-autoclave, low energy method of waste recycling.
The Province of Zambales, which is located on the west coast, north of Manila, plans to initially install a two-chamber VWP that can process 150,000 tonnes of household rubbish per annum. The sanitised waste material produced by the VWP is expected to be manually sorted before undergoing a distillation process to produce bio-ethanol. The contract provides an option to later add a further two chambers.
Reclaim Resources will manufacture, supply and construct the entire end-to-end solution. The manufacture of the plant will commence in 2009. As planned, the majority of the equipment is to be produced in the country of its eventual operation, in this case the Philippines. All assembly of the plant will be overseen by Reclaim Resources and following a four month installation period, the VWP and bio-ethanol unit are expected to be fully operational by late 2009. In comparison to other waste-to-energy solutions such as autoclave systems that can take up to two years to complete installation, the VWP has a rapid eight-month start-to-finish schedule.
This first sale from the Philippines represents a significant achievement for Reclaim Resources, as it is in final discussions regarding further contracts with other local authorities in the country, including Metro Manila regarding a deal that would require an initial provision of seven twin chambers for the production of bio-ethanol. Reclaim Resources is also in talks with another Philippine city, and is undergoing planning procedures and permissions with municipalities in India and the Ukraine.
Philip Hall, Managing Director of Reclaim Resources, commented:
"I am delighted to have received a contract for our VWP from the Province of Zambales; it serves as strong recognition of the immense benefits that our technology can provide, both to the region and the environment. The VWP will help local communities reduce the conspicuous problems caused by over-spilling landfill sites as well as enable the manufacture of all-too precious energy resources such as bio-ethanol that can be used to run cars or supply power to nearby villages. I believe Asia is the ideal place to drive waste-to-energy technologies such as the VWP, as it can quickly adopt and implement innovative solutions and is enthusiastic and unafraid to invest in progressive technologies."
Atty Amor D. Deloso, The Governor of Zambales, commented:
"The Provincial Government of Zambales is indeed happy and grateful that Reclaim Resources has chosen Zambales as the first local government unit in the Philippines and in the Far East as the site of a
processing plant utilising municipal solid wastes for the production of bio-ethanol. Reclaim Resources' technology is a timely response to the global oil crisis that would minimise our reliance to imported oil and oil products by turning solid wastes into bio-ethanol thus generating revenues, providing employment, and solving the nagging problem of solid waste disposal."
-Ends-
For Further Information:
www.reclaimresources.com
Public Relations:
Vikki Krause/Kirsty Corcoran
Hansard Communications
+44 (0) 207 245 1100
vikki@hansardgroup.co.uk
kirsty@hansardgroup.co.uk
www.hansardgroup.co.uk
About the VWP
After passing through the VWP, the much-reduced remaining waste material is sorted; plastics and metals are separated for recycling and the residue organics can be converted into compost or more importantly energies such as highly valuable bio-ethanol or electricity. Each chamber can treat ten tonnes of waste per hour or 75,000 tonnes per annum per processor, which is equal to the household rubbish produced by a mid-sized town in England.
A major advantage of the VWP is its low running costs and low carbon footprint thanks to an innovative method of heating the chamber which allows the generated steam to be recycled back to the boiler for reuse. In addition, the chamber is not operated under high pressure and therefore provides safer usage. The VWP has undergone rigorous factory testing on a full-size 10 tonne chamber and is the first environmentally sustainable system to successfully treat household waste through an open-ended chamber and continuous treatment line and the most cost effective waste management solution to be found on the market today.
Featured Product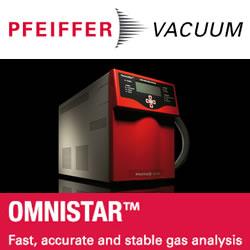 The Pfeiffer Vacuum OmniStar benchtop analysis system offers you a compact footprint, powerful software and Ethernet connectivity. It's the optimum solution for many real-time gas analysis applications. With the OmniStar, Pfeiffer Vacuum offers you a complete solution for gas analysis, in chemical processes, semiconductor industry, metallurgy, fermentation, catalysis, laser technology and environmental analysis. The turnkey OmniStar gas analysis system consists of heated, temperature-regulated gas inlet system, Quadrupole mass spectrometer, a dry diaphragm vacuum pump and HiPace turbopump. Unlike competing methods such as FTIR, OmniStar is suitable for qualitative and quantitative analysis of most gases.