The Australian Federal Government must rethink how a $1.4 billion commitment to homeowners will be applied by directing this to energy efficiency measures that will reduce energy costs to home owners, according the WA Sustainable Energy Association Inc. (WA SEA).
WA Sustainable Energy Association Inc. (WA SEA) Media Release - 14 October 2008

"The best way to fix housing affordability is for Australian Treasurer, Wayne Swan, to link the first home owner grant to energy efficient homes, to ensure assistance for the first home owner puts them into energy efficient homes with reduced running costs," says Dr Ray Wills, Chief Executive of WA SEA.
"Affordability is generally not about the initial construction costs, but the costs buried over the life of the asset. Handing out the first home owners grant without an obligation to invest those funds in an energy efficient home is akin to handing out free emissions permits to the most prolific greenhouse gas producers," says Dr Wills.
"We need joined-up thinking to simultaneously tackle the toxic debt crisis and climate change. A more sustainable approach to the economy deals with both issues at the same time - and with the same expenditure," says Dr Wills."
"Similarly, support for pensioners in the form of funding to convert their homes to be more energy efficient will ensure pensioners will continue to reap rewards - an enduring tax cut by savings in energy costs, and of course reducing greenhouse gas emissions."
"Rescuing banks has outstripped any investment to stop greenhouse gas emissions by several orders of magnitude. The Rudd Government will spend one per cent of GDP using taxpayer money to deal with poor financial decisions by Australia's banks. The financial institutions own an extensive array of assets - the Rudd Government must tie rescue packages to place obligations on those banks to invest more sustainably, so that the assets they control are geared to also do more to reduce greenhouse gas emissions," says Dr Wills.
Media Contact:
Dr Ray Wills 0430 365 607
Editors notes:
1. The Western Australian Sustainable Energy Association Inc. (WA SEA) is a chamber of businesses variously promoting, developing and/or adopting sustainable energy technologies and services that minimise the use of energy through sustainable energy practices and maximise the use of energy from sustainable sources. WA SEA is supported by a growing membership of 190 industry members from a diversity of businesses. www.wasea.com.au.
Featured Product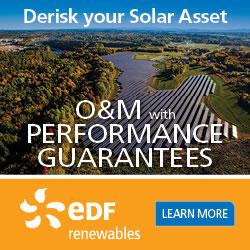 EDF Renewables offers the same innovative solutions that maximize the performance of our own 5.2 GW of installed projects. Because we're not an equipment manufacturer, our recommendations are transparent and data-driven. We cover the entire project lifecycle: from pre-commissioning support, through warranty and post warranty operation, to late stage and decommissioning.