Energy Efficiency /EE/ and Renewable Energy Sources/RES/. 5th International Congress & Exhibition for South-East Europe 6-8 April 2009 NDK, Sofia, Bulgaria
The aim of the annual Congress is to present invaluable knowledge and experience for EE & RES, to encourage investment in energy efficiency and the implementation of alternative energy in the Region of South-East Europe, to promote energy saving and the use of renewables.

The 2008 edition of the Congress was organized in partnership with 25 international industry organizations from Bulgaria and abroad as well as 32 national and international media. The event received the institutional support of the European Commission Sustainable Energy Europe Campaign and was held under the auspices of the South-East Europe Cooperation Process /SEECP/, Sofia Municipality and the European Bank for Reconstruction and Development /EBRD/.
54 highly qualified speakers from 14 countries shared their knowledge and experience on the latest innovations, project studies, practical results and analyses in the field with over 400 delegates from 24 countries. The attendees represented branches like power engineering, energy efficiency and renewable energy sources, chemistry & oil products, heating technology; air-conditioning, agriculture & food industry, architecture & construction, ecology & water supply, electronics & automation, mining, metal and machine building, consultancy services, investments & financing, administration & municipalities, scientific research, communications, media, associations, etc. 40% of them were company owners and managers, and the experts were 36%.
The Congress sessions covered important topics like Political and Economic Frame for EE & RES; Investments, Jobs and New Professions; Energy Efficiency; Solar Technology; Wind and Geothermal Energy, Waste-to-Energy; Bio Gas and Biofuels.
The parallel exhibition on EE & RES presents to the Bulgarian and international public the latest technology and develompents in the field of renewables and ecological energy. The exhibitors are from branches like аir-conditioning, ventilation and refrigeration equipment, building profiles, co-generation, curtain walls, devices for air pollution control, energy saving lighting, energy from waste, gas installations and equipment, glass and glass products, heating technology, low-energy buildings, passive houses, renewable energy and related systems, hydro energy and hydrogen technologies, geothermal energy, solar energy, photovoltaic systems, bioenergy, wind energy, energy certification, consultation, retrofiting of buildings, management of environmental safety, specialised software, heat accounting, emmission trade, systems and equipment for thermal insulation, systems for fire safety in buildings, profiles for doors and windows, etc.
At the 2008 edition of the event 42 direct exhibitors from 8 countries showed their innovative products and services to 3120 professional visitors from various fields including energy saving technology, power engineering, RES, fuels, heating and air-conditioning, construction, real estates, lighting, electronics, automation, ecology, investment, financing, machine building, architecture, design, insulations, profiles, curtain walls, agriculture, food industry, consultancy, legal services, state administration, media, advertising, publishing, university, institute, tourism, transport, etc. 48% of the visitors were decision makers, and 24% were specialists in the EE & RES field. 36% represented the service sector, 27 % were involved in production, and 24% - in trade.
There was a strong German participation on behalf of the German Federal Ministry of Economics and Technology. German Energy Efficiency Day (8 April) and German Renewable Energy Day (9 April) were announced by the German Pavilion.
Students from several Bulgarian technical schools were the youngest participants in the Exhibition. They presented the best works from the competition of youth projects on EE & RES.
Over 60 journalists from Bulgaria, Germany, Romania and Hungary attended the EE & RES Congress and Exhibition in 2008. The vast promotional campaign before the event included advertisements and publications in over 30 national and international specialised magazines. 8 radio stations, 9 industry magazines, 3 national and 7 regional newspapers further spread information about the events. Newsletters and press releases were sent on a regular basis by the organizers. 15,000 leaflets were mailed to targeted audience in the Region of SEE and over 20,000 invitations for visiting the parallel exhibition were sent. A strong Internet advertising campaign was also performed. Very successful promotional tool turned out to be the outdoor advertising.
The next Congress and Exhibition will take place on 6-8 April 2008. Germany will be again the Strategic partner of the Congress, and the Country in Focus will be Austria. The 2009 Congress has already received the institutional support of the Sustainable Energy - Europe Campaign of the European Commission.
For more information:
Via Expo Ltd.
+359 32 945459
office@viaexpo.com
www.viaexpo.com
Featured Product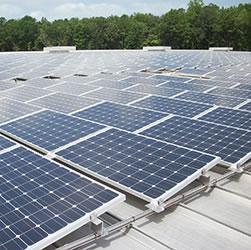 The Power Rail™ Commercial Mounting System is designed with the professional PV solar installer in mind. Both the XD/UD and LD/MD rails feature single tool assembly with the revolutionary patented RAD™ Lock-in-Place bolt for fast and secure module clamping. The high strength marine-grade aluminum rails include an integral wiring channel for securing cables and providing a professional finish.