Solar Stocks Investor Podcast with Tom Djokovich, CEO of Thin Film Solar Company, XsunX Inc. (OTCBB: XSNX)
"We envision thin film literally usurping the market share that silicon wafer technologies currently enjoy"

POINT ROBERTS, WA -October 15, 2008 - Investorideas.com and its leading green investor portal, RenewableEnergyStocks.com, presents a solar podcast with Tom Djokovich, CEO of XsunX, Inc. (OTCBB: XSNX). XsunX, Inc is a solar technology Company engaged in the build-out of its multi-megawatt thin film photovoltaic solar manufacturing facilities.
Tom Djokovich, CEO of XsunX, discusses recent successes and milestones for his thin film company as well as recent industry developments including the recent passage of the solar ITC legislation.
In the interview, Tom provides background on the events and steps leading to the recent news that the Oregon Economic Development Association (OEDA) recognized XsunX as a Business Development Success Story in an award presented to the City of Wood Village, Oregon.
Tom also gives investors insight into thin film solar technology and its benefits, features and the feedback from the purchasing community. He also comments on a recent report where Sharp states they expect thin-film solar cells to account for about 40 percent of an estimated global solar demand of 16 gigawatts by 2012.
"In real world conditions - thin film tends to out-perform silicon wafer technologies in most environments. Thin films are less expensive to manufacture so you can sell them for less per watt- that's benefit number one. Benefit number two is the consumer that acquires that watt gets more annual production for each watt they purchase", he reports.
"At the trade shows we have been attending recently in Europe, the feedback from the Power Purchase Associations and large commercial application consumers is - they are prepared to pay a premium for thin films. They now realize the value of them but the issue is that there is very little thin film available in the market. As more of it becomes available in market space, what we envision is thin film literally usurping the market share that silicon wafer technologies currently enjoy. "
XsunX Inc is attending the upcoming San Diego Solar Power Show and will follow up with Investorideas.com in an audio interview upon return.
To hear the full audio interview: http://static.investorideas.com.s3.amazonaws.com/podcasts/2008/101408a.mp3
Featured Showcase Solar Company XsunX (OTCBB: XSNX): Based in Aliso Viejo, Calif., XsunX is developing amorphous silicon thin film photovoltaic (TFPV) solar cell manufacturing processes to produce TFPV solar modules. To deliver its products the Company has begun to build a multi- megawatt TFPV solar module production facility in the United States to meet the growing demand for solar cell products used in large-scale commercial projects, utility power fields, and other on-grid applications. Employing a phased roll out of production capacity, it plans to grow manufacturing capacities to over 100 megawatts by 2010. More info on XsunX, Inc. can be found on our media profile at: /co/xsnx/default.asp or http://www.xsunx.com/
About Our Green Investor Portals:
RenewableEnergyStocks.com® is one of several green investor portals within Investorideas.com and provides investors with stock news, exclusive articles and financial columnists, audio interviews, investor conferences and a directory of stocks within the renewable energy sector.
About InvestorIdeas.com:
"One of the first online investor resources providing in-depth information on renewable energy, greentech and water sectors." InvestorIdeas.com is a leading global investor and industry research resource portal specialized in sector investing covering over thirty industry sectors and global markets including China, India, Middle East and Australia.
Disclaimer: Our sites do not make recommendations. Nothing on our sites should be construed as an offer or solicitation to buy or sell products or securities. We attempt to research thoroughly, but we offer no guarantees as to the accuracy of information presented. All Information relating to featured companies is sourced from public documents and/ or the company and is not the opinion of our web sites. This site is currently compensated by featured companies, news submissions and online advertising. XsunX compensate the website $5000 per month.
www.InvestorIdeas.com/About/Disclaimer.asp
* All interview content is based on previously disclosed public information in SEC filings and press releases.
For more information contact:
Dawn Van Zant 800.665.0411
Email: dvanzant@investorideas.com
Source: InvestorIdeas.com, RenewableEnergyStocks.com, XsunX
Featured Product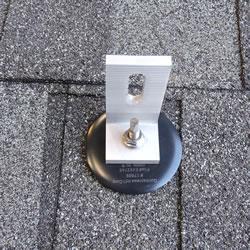 SolarRoofHook's Low Profile QuickBOLT with Microflashing™ is the industry's affordable, UL Certified Asphalt Shingle mounting system. The Microflashing™ is compressed by the collar on the bolt to create a water-tight seal. With an installation time of less than one minute, the Low Profile QuickBOLT allows installers to complete more jobs.