Represents Largest Market Transformation Contract for Solar Energy Awarded by U.S. Department of Energy to Date
DENVER, and SAN DIEGO, October 14, 2008 - CH2M HILL has been selected by the U.S. Department of Energy (DOE) to help 25 American cities accelerate the adoption of solar energy. The contract is an important strategic component of The Solar America Initiative, a U.S. Department of Energy (DOE) effort to make solar electricity from photovoltaics (PV) cost competitive with conventional forms of electricity from the utility grid by 2015. Under the three-year, $5.5 million contract, CH2M HILL's IT Consulting and Spatial Information Management practices will work alongside the DOE and officials from 25 cities taking part in the DOE's Solar America Cities program, to eliminate market barriers to adoption and debut new solar solutions.

According to Tom Kimbis, director of the Solar America Cities program, "DOE's Solar America Cities Program is helping our cities accelerate the adoption of clean, solar energy technologies. With technical assistance, cities will have expert assistance to overcome market and technical barriers."
Contracted through separate task orders, CH2M HILL will work with the DOE and officials in each city to create customized programs that encompass solar engineering, financial modeling studies, zoning code revisions, structural engineering analysis, emergency management operations using solar power, site selection for solar arrays, and installer certification and training. The contract follows a seven-month pilot program.
The CH2M HILL solutions, such as solar maps and portals, radically impact everyday citizens' ability to understand, evaluate and adopt solar energy in their homes and places of business. For instance, CH2M HILL's Solar Portals combine aerial imagery with advanced 3-D modeling, allowing entire cities to be mapped rooftop by rooftop in a matter of weeks. Once CH2M HILL and the city host the solar map of the city on a Solar Portal, residents can easily log on, view their rooftops, calculate the available square footage for panels, mock up solar panel placement, estimate how much money they will save and choose from a listing of available installers. Residents can also see whether any of their neighbors have adopted solar energy and which buildings in town have solar applications and get detailed information on tax rebates.
Unlike other solar mapping solutions, CH2M HILL's Solar Portals utilize the company's proprietary Solar Automated Feature Extraction (S.A.F.E.') technology, which accurately reflects elements such as rooftop structure (including air conditioning units and ducting), the azimuth or direction of the sun, shadows cast by other structures, and the slant of the roof. This not only increases accuracy, it speeds mapping and reduces the need for costly on-site assessments.
In addition to creating solar maps and portals, the solutions CH2M HILL will supply to these 25 cities include municipal applications as well. One primary area of emphasis is allowing city and local governments to transition services, such as emergency management systems, to solar power.
According to Dave Herrmann, client solutions director, CH2M HILL Enterprise Management Solutions, "CH2M HILL was tapped for its proven experience. We've already worked closely with many progressive cities, such as San Francisco, where we deployed solar maps and Tucson, Ariz., where we developed the specification for a solar system surrounding a wastewater treatment center."
By planning for solar power and deploying these programs, the cities are demonstrating their eagerness to transition to alternative energy sources and embracing the future. "At CH2M HILL we are focused on giving these cities the ability to harness solar energy fasterówe'll do the work that removes cumbersome steps from the process and create faster paths to adoption, city by city, and, as needed, rooftop by rooftop. We're excited to include the DOE and these 25 cities among our clients, and to be one of the companies driving America's conversion to new sources of energy." adds Herrmann.
The 25 cities that CH2M HILL will be working with alongside the DOE include: Denver, Colo.; Houston, Texas; Knoxville, Tenn.; Milwaukee, Wis.; Minneapolis - St. Paul, Minn.; Orlando, Fla.; Philadelphia, Pa.; Sacramento, Calif.; San Antonio, Texas; San Jose, Calif.; Santa Rosa, Calif.; Seattle, Wash.; Ann Arbor, Mich.; Austin, Texas; Berkeley, Calif.; Boston, Mass.; Madison, Wis.; New Orleans, La.; New York City, N.Y.; Pittsburgh, Pa.; Portland, Ore.; Salt Lake City, Utah; San Diego, Calif.; San Francisco, Calif.; and Tucson, Ariz.
In addition to its solar power solutions, CH2M HILL has wind, wave and other alternative energy programs in development. For further information about CH2M HILL's renewable energy solutions, please visit: www.ch2m.com/solarmapping.
About The DOE Solar America Initiative
The Solar America Initiative is a U.S. Department of Energy (DOE) effort to make solar electricity from PVs cost competitive with conventional forms of electricity from the utility grid by 2015. The strategy pursues complementary activities in research and development (R&D) and in market transformation. The goals are to reduce costs through R&D and to eliminate market barriers through deployment. For more about the DOE Solar America Initiative, visit: http://www1.eere.energy.gov/solar/solar_america/index.html.
About CH2M HILL
Headquartered near Denver, Colo., employee-owned CH2M HILL is a global leader in engineering, procurement, construction, management and operations for government, civil, industrial and energy clients. With $5.8 billion in revenue and more than 25,000 employees, CH2M HILL is an industry-leading program management, construction management and design firm, as ranked by Engineering News-Record (2008). The firm's work is concentrated in the areas of energy, water, transportation, environmental, nuclear and industrial facilities. The firm has long been recognized as a most-admired company and leading employer, including being named by FORTUNE as one of the 100 Best Companies to Work For and one of America's Most Admired Companies (2008). Visit www.ch2mhill.com.
CH2M HILL Enterprise Management Solutions (EMS) is an industry-leading management consulting and solution development business. EMS provides a unique ability to leverage its core lines of businessóconsulting, enterprise spatial, enterprise collaboration, integrated security and emergency preparedness, program management and managed IT servicesóto provide capabilities that span the entire client enterprise.
For more information about CH2M HILL EMS visit: www.ch2m.com/ems.
###
Editor's note: Spokespeople from the DOE, as well as from individual cities are available for comment. In addition, video segments, downloadable graphics and other press materials are available at www.ch2m.com/solarmediakit.
Featured Product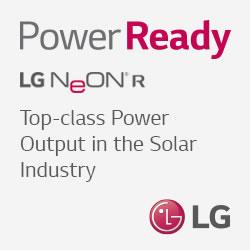 The NeON R module features "Back Contact" cell technology delivering an entirely black panel that is aesthetically pleasing and energy efficient. The cell's seamless, surface blends perfectly into nearly all rooftop designs while the module's electrodes are positioned on the rear of the cell. Using LG's N-type cell structure, the panels produce 365W of energy, up to 7.3kWp, compared to 5.8kWp of the p-type cell. The module's new design minimizes LID, thereby delivering a longer lifespan and increased energy output.