Clima Air & Electric has joined with millons of Americans in the fight against global warming.
FOR IMMEDIATE RELEASE

October 16, 2008
Contact: Jose Jesus Cervantes, 623-939-0405, jj@airsolarenergy.com
Web site: www.airsolarenergy.com
Clima Air & Electric L.L.C. Joins EPA Campaign Encouraging Americans to Fight Global Warming.
Clima Air & Electric L.L.C. Phoenix, AZ—October 16, 2008. Clima Air & Electric today announced that they have joined the U.S. Environmental Protection Agency's (EPA) Change the World, Start with ENERGY STAR campaign to encourage homeowners and small businesses to reduce energy use in their home and their workplace.
Clima Air & Electric L.L.C. has joined with millions of Americans in the fight against global warming by encouraging individual actions that can make a big difference in reducing energy bills and greenhouse gas emissions. Clima Air & Electric is a recognized and respected HVAC and Electrical contractor in Phoenix AZ. This month, they urges homeowners and small businesses to take the ENERGY STAR Pledge by visiting www.energystar.gov and sharing their energy-saving story to inspire others to make energy-efficient changes.
The ENERGY STAR Pledge at energystar.gov/changetheworld encourages Americans to:
• Change light bulbs to those that have earned the ENERGY STAR
• Use a programmable thermostat to save energy while asleep or away from home
• Enable power management settings on computers and monitors so they go into "sleep mode" when away or not in use
• Make their next purchase an ENERGY STAR qualified product, such as home electronics, office products, and/or appliances
• Make sure their homes are well sealed and insulated
• And more!
"We want to do our part to reduce our country's greenhouse gas emissions and help fight global warming," said Jose Jesus Cervantes. "We are proud to spread the word about the difference that individuals in our community can make by taking energy-saving steps in the workplace and at home."
If every American household took the actions in the pledge, we would save more than 110 billion kilowatt hours of electricity, more than $18 billion in annual energy costs, and prevent greenhouse gas emissions equivalent to more than 18 million cars.
"Becoming part of the solution to global warming takes less time and effort than you might think. You can start by taking simple steps like changing a light or looking for the ENERGY STAR when you purchase new products," said Kathleen Hogan, Director of the Climate Protection Partnerships Division at EPA. "We are delighted to work with Clima Air & Electric and others across the country who are helping in the fight against global warming. Together, we can all make a difference and protect our environment through simple everyday actions."
About ENERGY STAR
ENERGY STAR was introduced by EPA in 1992 as a voluntary, market-based partnership to reduce greenhouse gas emissions through energy efficiency. Today, the ENERGY STAR label can be found on more than 50 different kinds of products as well as new homes and buildings. Products that have earned the ENERGY STAR designation prevent greenhouse gas emissions by meeting strict energy-efficiency specifications set by the government. In 2007, Americans, with the help of ENERGY STAR, saved $16 billion on their energy bills while reducing greenhouse gas emissions equivalent to those of 27 million vehicles. For more information about ENERGY STAR, visit www.energystar.gov or call toll-free 1-888-STAR-YES (1-888-782-7937).
About Clima Air & Electric
Clima Air & Electric is a recognized air conditioning and electrical contractor in Phoenix AZ, serving the residential and commercial markets. We are dedicated to providing safe, reliable service and accurate information on all our work. Additional information available at: www.airsolarenergy.com or by contacting Jose Jesus Cervantes at 623-939-0405.
Featured Product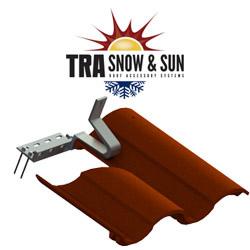 You haven't installed a tile mount that is easier to install than the Solar Tile Mount manufactured by TRA Snow and Sun. Solar Tile Mount is used on all tile roof profiles: flat, mid, and high. It is made in the USA of aluminum alloy for strength and excellent corrosion resistance. Solar Tile Mount is built to allow more ease in installation with more rise from the tile surface to the rail for better air flow below panels. The adjustable base is longer than most allowing attachment 6" to the left or right to have the bracket in the base of the pan of the tile and still fasten to the rafter. Solar Tile Mount is adjustable for counter batten systems from ¾" to 3". The horizontal rail is directly above base fasteners giving greater uplift resistance than any other system. For superior waterproofing apply TRA Snow and Sun's butyl backed VersaFlash aluminum flashing. No tile flashing is needed on top of the tile for greater labor and material cost savings.