The Western Australian Sustainable Energy Association Inc (WA SEA) members today elected Bob Blakiston as the new Chair of WA SEA, the only business peak body actively supporting substantive action on sustainable energy in Western Australia.
Elected as WA SEA's fourth Chair at the Annual General Meeting today, Mr Blakiston takes over the reigns from retiring Chair, Simon Avery of Solahart Industries.

Mr Blakiston is Managing Director for SunPower Corporation Australia Pty Ltd, the Australian operation of the Nasdaq listed company SunPower Corporation (SPWRA), a manufacturer of high efficiency solar cells, solar panels and solar systems.
"WA SEA is growing rapidly, is increasingly more effective and respected, but it will only remain relevant if both of those things continue to happen with the growing support of members," says Bob Blakiston, Chair of WA SEA.
WA SEA represents more than 190 industry members from a diversity of companies, businesses, organisations and individuals involved in sustainable energy practices and including energy efficiency across government, business and the community in: infrastructure; architecture and design of buildings and homes; transport; performance of appliances, vehicles, machinery, and industrial processes; and the use of renewable energy generation including passive use and solar hot water.
WA SEA members are many of the key energy players in Western Australia, exemplified by our current corporate members: Alinta, Auto Classic BMW, BHP Billiton Iron Ore, BP Australia, Carnegie Corporation, City of Mandurah, Gull Group of Companies, Horizon Power, Landfill Gas & Power, Pacifichydro, Perth Energy, PricewaterhouseCoopers, Rio Tinto, Solahart, SunPower Corporation, Synergy, The University of Western Australia, Verve Energy, Western Power, the WA Department of Industry and Resources, and WorleyParsons.
WA SEA has a strong reputation in Western Australia for authoritative commentary on a broad range of issues around energy efficiency and sustainable energy.
"WA SEA Members are already engaged in providing the business part of the solution to climate change in both energy efficiency and emissions free energy, to get the job done in a way that won't cost the Earth," says Dr Ray Wills, CEO of WA SEA.
"And WA SEA Members are working to get the job done in a way that won't cost the Earth."
The members of the 2008/2009 WA SEA Management Committee elected at today's Annual General Meeting are:
Chair
Bob Blakiston, Managing Director, SunPower Corporation Australia
Vice-Chair
Greg Denton, General Manager - Power, WorleyParsons
Treasurer
Harry Porrins, (Individual member)
Secretary
Adam Lippiatt, Legal Counsel, Horizon Power
Committee Members
Howard Buckley, Chief Executive, Sungrid Ltd
Regina Flugge, Principal Adviser Sustainable Development & Projects Rio Tinto
Glen Head, Director, HAC Consulting
Jim Thomson, Director, Outback Energy
Michael Starling, Director, Planet Carbon
Andrew Disney, (Individual member)
Biographies of all new WA SEA Management Committee members available on the WA SEA website, www.wasea.com.au.
WA Sustainable Energy Association Inc. (WA SEA) Media Release - 22 October 2008
Media Contact:
Dr Ray Wills 0430 365 607
Featured Product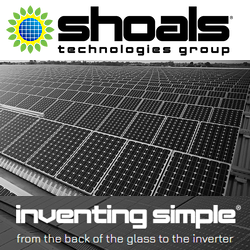 Inventing Simple® isn't just a slogan to us, it's a way of life. Using simple plug-and-play ideology, we revolutionized solar installations in 2003 with our Interconnect System™. Our harnessing system is now the gold standard EPC's use around the world. By using simple ideas, we are making solar energy a more affordable and clean power source for future generations.