Agreement Builds on Success of Products Recently Introduced
MONTREAL, QUEBEC, CANADA - October 27, 2008 - ICP Solar Technologies Inc. (OTCBB: ICPR.OB, FRANKFURT: K1U.F), a developer, manufacturer and marketer of proprietary solar panels and products, today announced that Wal-Mart has agreed to purchase the company's Coleman-branded solar charger kits for sale in 2,100 stores across the U.S. during 2009. ICP is expected to provide an estimated $1.0 million of these units for sale to Wal-Mart next year. The Wal-Mart agreement builds on an existing supply relationship and represents nearly double the sales anticipated for calendar 2008.

"Wal-Mart continues to see strong demand for our Coleman solar chargers given the sustained interest in clean solutions for today's huge array of energy-consuming products," said Sass Peress, Chairman and CEO of ICP Solar. "Our sleek design and affordable, easy-to-use applications make it simple to harness the power of the sun for consumers' everyday electricity needs. We expect to continue building on the Wal-Mart relationship and provide additional solar products going forward. Even in today's volatile energy market, the desire for clean solar energy applications is stronger than ever."
About ICP Solar Technologies, Inc:
ICP Solar is a developer, manufacturer and marketer of solar panels, solar cell based products, solar monitoring software and solar power management solutions. Through the application of its own intellectual property and next-generation technologies, the Company aims to be the solar industry's innovation leader. For the past 20 years, ICP Solar has been a lead innovator in the consumer solar market and has now begun to apply that same innovation philosophy to the OEM, rooftop and power generation segment of the solar industry. ICP Solar's management has over 50 years of experience in the renewable energy sector. ICP Solar markets its products under its Sunsei brand of solar products and is the North American licensee of the Coleman(R) brand in the solar charger category. ICP Solar is also helping the environment by offering these solar technologies and green solutions to the renewable energy sector. The company's headquarters are located in Montreal, Canada, with an R&D center in St. John's Canada and additional locations in the USA, Ireland, France and the UK. Additional information may be found at www.icpsolar.com
ICP Solar Technologies Inc:
Sass Peress, Chief Executive Officer
Tel: 514-270-5770
Investor Relations:
Chris Witty
Email: cwitty@darrowir.com
Tel: 646-438-9385
Public Relations:
Laurent Lafite
Email: Llafite@icpsolar.com
Tel: 514-270-5770
This release may contain forward-looking statements. Often, but not always, forward-looking statements can be identified by the use of words such as "expects," "plans," "estimates," "intends," "believes," "could," "might," "will" or variations of such words and phrases. Forward-looking statements involve known and unknown risks, uncertainties, and other factors which may cause the actual results, performance, or achievements of ICP Solar Technologies Inc. to be materially different from any future results, performance, or achievements expressed or implied by the forward-looking statements. These statements are based on management's current expectations and beliefs and are subject to a number of risks and uncertainties which are described under the caption "Note Regarding Forward-looking Statements" and "Key Information - Risk Factors" and elsewhere in ICP Solar Technologies Inc.'s Annual Report for the fiscal year ended January 31,2008, as filed on EDGAR at www.sec.gov. The risk factors identified in ICP Solar Technologies Inc. Annual Report are not intended to represent a complete list of factors that could affect ICP Solar Technologies Inc. Accordingly, readers should not place undue reliance on forward-looking statements. ICP Solar Technologies Inc. does not assume any obligation to update the forward-looking information contained in this press release.
Featured Product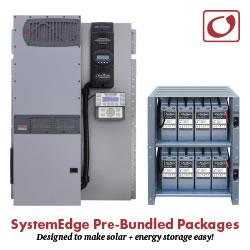 Each pre-bundled package is designed to make solar plus energy storage easy. By combining OutBack's most popular FLEXpower pre-wired systems with matched OutBack energy storage, SystemEdge takes the guesswork out of installing solar plus storage. Every SystemEdge package includes a FLEXpower factory pre-wired system, application-specific EnergyCell batteries and racking, FLEXware ICS Plus combiner and all the necessary connection hardware.