MMA Renewable Ventures, Regenesis Power and Mitsubishi Electric Generate Clean Energy at Bolthouse Farming Operations
SAN FRANCISCO and BAKERSFIELD, CA OCT. 30, 2008 - Today Wm. Bolthouse Farms, Inc. and MMA Renewable Ventures, a subsidiary of Municipal Mortgage & Equity, LLC (OTC:MMAB.PK) announced the completion of a 1.9 megawatt solar power system installed at the company's farms in Palmdale, CA. The solar power system, installed at Bolthouse's S&P and Rowen Farms, is owned and operated by MMA Renewable Ventures. Regenesis Power of Simi Valley designed and installed the solar tracking array.

"With four generations of farming experience, Bolthouse Farms has a long history of practicing responsible stewardship of our resources to ensure sustainability. We're excited to be able harness the sun to power our farming operations," said Bolthouse Farms President, Jeffrey Dunn. "We've got plenty of sunshine here in California; it's been vital to our agricultural success. It's wonderful to be using the sun to generate clean energy."
"We're very pleased that Bolthouse Farms worked with us to deploy solar power, providing such an ideal venue for the solar array," said MMA Renewable Ventures CEO Matt Cheney. "Integrating solar power into the energy mix helps lower costs, reduce pollution, and conserve natural resources. Companies such as Bolthouse Farms are leading the way in the agricultural sector —especially in California's key growing regions— by deploying clean, reliable solar electricity."
MMA Renewable Ventures, which owns and operates the solar power system, worked with Bolthouse Farms and Regenesis Power to develop this project. By leveraging federal tax credits and other state incentives, MMA Renewable Ventures enabled Bolthouse Farms to deploy the 1.9 MW solar array under a long-term contract or Power Purchase Agreement (PPA). "By securing power through a power purchase agreement rather than a major capital investment, Bolthouse Farms benefits from a renewable energy system that is cost-effective on its first day of operation — and for years to come," added Cheney.
Designed and installed by Regenesis Power, LLC using 10,300 high-efficiency solar panels from Mitsubishi Electric, the new ground-mounted photovoltaic solar arrays employ a tilted single-axis tracking system that follows the sun during the day for greater efficiency — maximizing energy production.
"This project defines a new standard in delivering clean, efficient, sustainable energy for the agricultural sector," said John Polumbo, President and CEO Regenesis Power. "Today, executing solar energy projects of this scale requires a combination of advanced technology, innovative expertise and collaborative partnering between all participants."
"More farms, dairies and food providers are embracing solar, and not only for the cost savings," said Gina Heng, director of sales and marketing for Mitsubishi Electric & Electronics USA's Photovoltaic Division. "Many agricultural businesses are eager to reduce the emissions generated by non-renewable energy sources. Not only is the solar array at Bolthouse Farms generating clean power, but the farm's conversion from diesel-powered irrigation pumps to solar-powered pumps significantly reduces noise and improves air quality. The solar array will help offset 2,200 metric tons of carbon dioxide annually, which would have otherwise been emitted into the environment."
The solar power system covers unused ground on land being farmed by Bolthouse Farms, located east of Palmdale. The solar array was designed to provide nearly 80 percent of the electricity used to power Bolthouse's Palmdale operations at these farms.
Bolthouse Farms' use of onsite solar generation illustrates the company's commitment to responsible energy use. Not only is solar an environmentally sound energy source, it's an especially smart energy choice for utility customers in California, because it protects customers from price spikes. By leveraging solar power, Bolthouse Farms is helping all of California's utility customers; the energy savings accrued will reduce constraints on the grid, especially during peak electrical demand hours - at times when state transmission lines are the most constrained. Any excess electricity generated by the solar array that is not used by Bolthouse will be sent back into the utility grid for use by other customers.
####
About Wm. Bolthouse Farms
Wm. Bolthouse Farms, Inc. is a fourth generation farm based in California's San Joaquin Valley. After more than 90 years of farming and distributing premium fresh produce, the company is a leader in innovation in the industry. Bolthouse Farms employs over 2,400 people year-round, ships over 35,000 tons of Carrot Products each month, and is North America's leading brand of super-premium refrigerated juices. For more information, visit www.bolthouse.com .
About MMA Renewable Ventures
A wholly-owned subsidiary of Municipal Mortgage & Equity, LLC (OTC: MMAB.PK), MMA Renewable Ventures is a provider of renewable energy to businesses, utilities and government. The company develops, finances, owns and operates solar, wind, biomass and energy efficiency projects that provide clean power to customers without capital investment or maintenance costs. MMA Renewable Ventures is dedicated to delivering competitively-priced, clean energy and energy savings to customers, strong partnership options for project developers, and exceptional opportunities for institutional investment in the clean energy sector. Our team of engineers, financiers and projects managers is passionate about building a sustainable future. For more information, visit www.mmarenewableventures.com.
About Regenesis Power:
Regenesis Power is a solar energy company with expertise in the design, construction and finance management of large-scale commercial photovoltaic projects. Regenesis Power also provides fully managed solar water heating programs for electric and water Utility companies, enabling them to offer their residential and business customers a clear choice for clean energy on a mass scale. The Regenesis Power team has designed, developed and managed over 30 MW of industrial and commercial solar projects throughout the US. The company is headquartered in Moorpark, California. For more information, visit www.regenesispower.com .
About Mitsubishi Electric & Electronic USA Photovoltaic Division
Mitsubishi Electric is one of the world's largest manufacturers and providers of solar power technology, including PV cells, modules and inverters. The company's eco-friendly photovoltaic systems are used throughout the world to bring clean, reliable energy to residences, business, power generation plant, schools, factories and areas without access to electricity, as well as other applications such as highway and stadium lighting. In the United States, Mitsubishi Electric photovoltaic panels are marketed by Mitsubishi Electric & Electronics USA Inc., and sold only through authorized distributors and installers. For more information, visit www.mitsubishielectricsolar.com.
Featured Product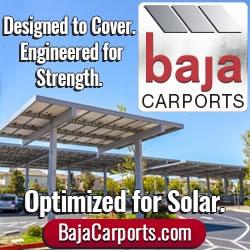 Baja Carports offers an extensive solar support system product line customized to customers' site specifications by in-house engineers, meeting their parking lot coverage, plus optimal PV production needs. Baja's Full Cantilever Tee is often paired with its Semi and Full Cantilever carports to meet live/loads up to 60psf and wind speeds to 160mph. All Baja products are pre-fabricated, bolted connections, pre-galvanized structural steel for fast on-site installation and project aesthetic requirements."