Stan Marco among the geothermal industry's most well-respected and highly sought after knowledge experts
Toronto, ON - The geothermal industry honoured one of its own last night when it awarded GeoSmart Energy Inc. CEO Stan Marco its prestigious Prize for National Leadership.

The prize, presented during the Canadian GeoExchange Coalition's 3rd National GeoExchange Business and Policy Forum at the Royal York Hotel in Toronto, is awarded to an individual who has demonstrated ongoing leadership in the GeoExchange industry in Canada.
Stan Marco is the epitome of leadership excellence. "He is among the geothermal industry's most well-respected and highly sought after knowledge experts and educators and his influence is reflected in the practices and principles widely used by the GeoExchange market today," says Denis Tanguay, President and CEO of the Canadian GeoExchange Coalition.
Recognized as one of North America's most experienced GeoExchange specialists, Stan Marco heads up the largest non-manufacturing-based distributor of geothermal products in Canada. The training offered to dealers, installers and customers through his GeoSmart Energy Academy is considered an industry best.
His influence on the market has helped set the standard for how geothermal heat pumps are sized and installed in both residential and commercial properties.
"What I've learned throughout my years in this industry, is that we can and should always be doing more to raise the bar, from constantly making improvements to the products and services we offer to strengthening our efforts in education and training," says Marco. "I feel privileged to work in an industry that's not only making its mark in providing viable energy alternatives here at home, but around the world as well."
The Canadian GeoExchange Coalition acts as the industry catalyst to unite private and public sector stakeholders and to expand the market for ground source heat pumps and GeoExchange technology in Canada.
- 30 -
GeoSmart Energy Inc., based in Cambridge, Ontario, is a leading geothermal heating and cooling supplier to residential and commercial markets. As one of the largest purveyors of geothermal technology and training, GeoSmart is continually asked globally for their knowledge and geothermal implementation expertise. Visit us at www.geosmartenergy.com.
Featured Product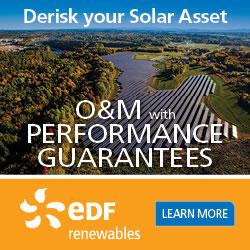 EDF Renewables offers the same innovative solutions that maximize the performance of our own 5.2 GW of installed projects. Because we're not an equipment manufacturer, our recommendations are transparent and data-driven. We cover the entire project lifecycle: from pre-commissioning support, through warranty and post warranty operation, to late stage and decommissioning.