Rolls Out First MW of Solar PV Panels
MOCHAU, Germany — November 20, 2008 — Signet Solar, a global manufacturer of thin film silicon photovoltaic (PV) modules, today announced the production and shipment of the first megawatt (MW) of panels from its manufacturing facility in Mochau, Germany.

The shipment comes only a month after Signet became the first licensee of Applied Materials' (NYSE: AMAT) SunFab' production line to start high volume manufacturing ramp of the large-area thin film modules. Initial customer shipments are being delivered to Hannover-based alfasolar Vertriebsgesellschaft GmbH.
"Alfasolar is committed to developing renewable energy projects. Signet Solar provided us large-area panels at a price that further drives down the cost of solar energy for our customers. Set for operation in December 2008, this project is a great step forward in Western Pomerania's adoption of renewable energy," said Martin Denz, CEO of alfasolar Vertriebsgesellschaft GmbH.
In addition to alfasolar, Signet customers include several major photovoltaic system integrators such as Phönix Solar AG, Soleg GmbH, Goldbeck Solar GmbH, and SolarMarkt AG. Signet's Mochau facility is now qualified for full production capacity of 20MW per year. In order to meet existing customer commitments of over $400 million, Signet has plans to expand its installed production capacity up to 130 MW by the end of 2009.
"Just weeks after initiating commercial-scale production, Signet Solar has already produced more than one megawatt of thin film modules. We have achieved another major milestone by delivering the first shipment out of our factory to lead customers. " said Gunter Ziegenbalg, Managing Director of Signet Solar's operations in Germany. "We continue to improve our manufacturing operations and module efficiency to reduce cost for our customers."
Through partnering with Applied Materials, solar PV solution providers and energy producers, Signet has become a global leader in thin film photovoltaic module production and delivery. Since the start of volume production, Signet has produced more than 11,000 modules with efficiency over 6.25 percent.
Signet's large module format reduces total systems costs and installation time. Applications for Signet's large format modules include solar farms, larger commercial installations, building integrated photovoltaics (BIPV), and remote habitation.
About Signet Solar
Signet Solar, Inc. is a global company established in 2006 to bring Clean Affordable Renewable Energy' to people and countries worldwide. Headquartered in Menlo Park, California, the company has been founded to design, develop, manufacture and market thin film silicon photovoltaic modules.
# # #
Signet Solar and Clean Affordable Renewable Energy are trademarks of Signet Solar, Inc. in the United States and other countries.
Featured Product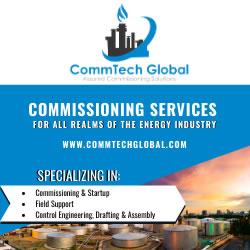 CommTech Global Solutions, LLC, provides professional and reliable commissioning services to customers in all realms of the energy industry. We blend our skills in engineering and technology with innovative business models, offering a complete range of services to assist you for a successful and in compliance operational startup. Consolidation of all our service domains gives our clients a comprehensive set of expertise and far-reaching experience on each project.