Calgary, Alberta - November 19, 2008 - Solar industry dynamics are changing dramatically in a way that was not immediately apparent to us; nor has it been apparent to many who follow the industry. These dynamics impact Sustainable Energy significantly and positively.

Over the summer, we met with many large and very knowledgeable institutions invested in the solar industry to tell our story and to test our hypotheses on the changing industry dynamics. By the end of August, we were highly confident that our assessment of the market dynamics was fundamentally sound and that we were on the right track. In September and October we introduced our technology and its value to our prospective customers, at trade shows in Valencia Spain and San Diego California. We have received a very strong endorsement of the value of our massively parallel concepts from some of the largest thin film companies.
This is a significant turning point for Sustainable Energy. We estimate the addressable market at $400 million in 2009 and $1.5 billion/yr by 2012. We believe that we have the opportunity to make our technology the leading alternative for thin film solar in the rooftop and building integrated market.
The presentation which we have used to describe the opportunity can be accessed on our website at:
http://sustainableenergy.com/fileadmin/user_upload/Investor_Presentation/08-11-6_TFPresentation.pdf
In many respects the past 10 weeks have been a watershed period for us. Below is an overview of the main events and activities affecting the Company over this time period.
Overview
Over the past ten weeks:
 We took our massively parallel concepts to the thin film industry at trade shows in Valencia Spain and San Diego California. From meetings with system integrators and module manufacturers, including two of the world's largest solar PV companies, it is clear to us that the massively parallel approach to system design is a very powerful concept.
We are scheduling trials with module manufacturers and leading systems integrators in Germany, Spain, Taiwan, Canada and the United States over the next two months.
 We completed the design concepts for thin film rooftop bundles using amorphous silicon modules, STG inverters, precut racking and wiring assemblies. Our strategy is to demonstrate the power of the solution in reducing the installed cost/watt of rooftop solar PV. We are working closely with a leading supplier of racking to the US solar industry and with Copcisa to refine the package for the modules of several thin film suppliers.
We have secured module supplies for the demonstrations and trials and we are confident that we are in a position to secure a low cost supply of modules for 2009 and beyond.
Based on pricing from several different module suppliers, we estimate the cost/watt at less than US$4.50. To put this in perspective, the current installed cost/watt ranges from US$7.0/watt to US$9.0/watt, depending on competitive market conditions. According to the prestigious Prometheus Institute building based PV systems become economic without subsidies at US$4.0/watt.
We intend to roll out the first packages in Spain during calendar Q1, 2009. We are also in discussions with several partners to do the same in Greece. With the rollout of the Gen II version of our SUNERGY inverter, we will follow in Germany, France and the United States.
 We completed the first production prototypes of the Gen II version of our inverter platform. The platform incorporates a modular approach which will support multiple power ratings and reduce manufactured cost significantly.
We are currently targeting US$0.20/watt when the market value for inverters in our power rating is US$0.40 or better. We expect to reduce this to US$0.18/watt with a new proprietary transformer topology available by mid 2009. By 2012, we believe we will be able to manufacture at US$0.10 - US$0.12/watt.
We believe current wholesale market prices for inverters in our power rating range from €0.28/watt - €0.36/watt depending on market conditions, warranty terms, and volumes.
The first Gen II products will be certified for use in all the major markets of the world including Germany the United States, Italy and France in addition to Spain and Greece. By Q2 of 2009 we will have products for sale in all the European and North American markets.
 Spain announced its new feed in tariffs with effect from October 1, 2008, enabling project planning and procurement processes to go forward. These had been stalled since February 2008. The tariff structure is very complex but ranges from €0.29/watt for ground based systems to €0.32/watt for building based systems with a total 300MW eligible for the enhanced pricing. Significantly the government has mandated that 200 MW must be for rooftop systems.
Our limited market intelligence is that large projects are sputtering due to a shortage of credit and an overhang of about 100 MW of ground based systems that did not get completed before September 30. The overhang does not appear to impact sales to rooftop systems which are moving.
We are already partnering with one of the largest construction companies in Spain to distribute rooftop packages and expect to announce agreements with one or more systems aggregators shortly. We believe that at least 10% penetration of that market by the second half of 2009 is very achievable. At US$4.50/watt the total potential revenue to the joint venture would represent approximately $54 million for that period, and double that amount for 2010.
 Greece established an office to manage the pre-authorization of capital grants for solar PV projects. It has also announced enhanced tariffs for rooftop solar. Project developers with permitted projects are in the cue to obtain pre-authorizations and the market is growing. Our limited market intelligence thus far is that the Greek market does not appear affected by the credit issues.
We currently have three contracted relationships with systems aggregators, two of which have been announced. For competitive reasons, is it not our intention to announce other relationships. We believe these aggregators to have permitted projects in the queue for pre-authorizations, totaling more than 12MW. All are planning to use crystalline modules, and are not yet part of our thin film initiatives.
 We signed a memorandum of understanding with a large European electronic and positioning controls company whereby that company will integrate our inverter into a tracker package for concentrated solar PV systems. The company's lead customer is a leading power project developer and the potential is for multi-megawatt sales to utility scale projects in Europe, North Africa and the Middle East.
 We successfully prototyped an ultra low voltage (10 volts - 20 volts) inverter with better than 90% efficiencies for NTK Technologies. We believe this to be an industry first. NTK Technologies which is part of Japanese NGK Spark Plug is commercializing a 1,000 watt SOFC fuel cell power module with primary efficiencies in excess of 60%. NTK has funded the development and we are anticipating a longer term licensing arrangement.
The reason for entering into this development, which consumes very little time, is twofold. First, the relationship maintains our pre-eminence in the fuel cell sector and represents very substantial long term value. Second, the relationship is a platform from which to enter the Japanese solar PV market. The ultra low voltage of the inverter has a unique value for building integrated solar PV by eliminating the need for connective wiring - the industry's first "wire -free" inverter.
Commentary
The enormity of the opportunity was simply not visible to us until this summer and in reality not certain until we rolled out the ideas in Valencia. The changing dynamics have changed our paradigm from a niche market player, marketing to specialty applications based on our several value propositions, to being a key enabler for thin film PV.
Thin film is expected to represent 50% - 70% of the total solar market by the 2012 - 2015 and will be an important factor enabling solar to achieve grid parity. By increasing thin film productivity we are part of that process.
We are planning to penetrate this market as quickly as our resources allow, but shareholders should recognize that multi-megawatt volumes will only come later in 2009 and into 2010 as thin film production volumes increase. We have ambitious revenue goals for the second half of 2009 which we believe are achievable but for which there is no guarantee.
In the meantime, we continue to market our products to conventional crystalline applications in Spain and Greece. By mid-year 2009 we will be in the US and Germany. As noted our sales partners in Greece have permitted projects in the queue for pre-authorizations into which we expect to sell inverters totaling about 12 MW in the next few months. These are not purchase orders, however, and while we are confident that a substantial portion will be converter to sales there is no guarantee of that outcome.
It is regrettable that our good time comes at times of such turmoil and uncertainty in the capital markets causing so much apprehension about the future of the Company. I do not have any such apprehension. Nor do I have any apprehensions about the future of solar notwithstanding the some of the popular press.
It is also regrettable that declining share prices for solar companies has led to the conclusion by the popular media and even some market analysts that industry is facing slower growth. In my judgment they have misread the situation. Share prices are not coming down because of slackening demand but because of the prospect of massive increases supply mainly due to low cost thin film solar modules coming on the market in this Quarter and through 2009.
I have addressed these and other questions in a separate Q&A note, which I hope puts the facts in better perspective and will help you to understand my enthusiasm for and commitment to our future. It can be found on our website.
Michael A Carten, President & CEO
Featured Product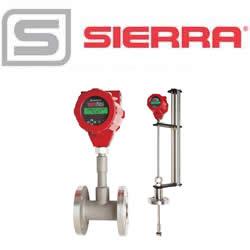 Sierra was the first to introduce a combination volumetric vortex and multivariable mass flow meter in 1997. Today, Sierra's completely redesigned InnovaMass® iSeries™ 240i/241i builds on two decades of success measuring five process variables for gas, liquid and steam with one connection. Now, with the latest hyper-fast microprocessors, robust software applications, field diagnostic and adjustment capability, and a new state-of-the-art flow calibration facility, Sierra's vortex iSeries delivers precision, performance, and application flexibility never before possible.