As NSG has opened its door for India with Indo-US Nuclear Deal, the country's nuclear power industry is expecting six-fold jump in its capacity installation by FY 2018.
The Indian nuclear power industry, remaining neglected for a long period, was on a slow growth track until the country closed a successful civil nuclear deal with the US in 2008. After signing of this historical deal, India's capacity installation is expected to boost up remarkably due to nuclear cooperation in the next Five Year Plan (FY 2013 to FY 2018).

Domestic power requirement of India is shooting high at a sharp pace. This has prompted the Indian power industry to pour more investments into the nuclear sector. But the bottleneck in the uranium supply chain has limited the growth of nuclear installation. As a result, India opted for international cooperation in 2008.
After cutting the nuclear deal successfully, India is now able to get the Nuclear Suppliers Group (NSG) support for uranium supply to power its nuclear plants. With the international support, we expect that India will increase its nuclear capacity installation around six-fold by FY 2018. International cooperation, apart from securing uranium supply, will also help India to develop its nuclear technology for power generation.
We extensively studied the Indian nuclear industry and compiled the research findings in our report - "Nuclear Energy - A New Hope for India" - to give a true picture of the industry.
This report gives a thorough analysis on the Indian nuclear power industry. It evaluates the growth prospects and market potential, underlines the issues related to the success of the industry, and provides a prudent analysis on its various aspects. It presents a comprehensive overview of the past and current performance of the industry and identifies the future direction of the market.
The future outlook section of the research provides information on Indian -
- Nuclear power installation
- Uranium Requirements
- Investment requirements for plant construction
- Future nuclear power generation
Apart from the nuclear industry, the report analyzes the current power demand and supply scenario of the Indian power industry and its future outlook. It discusses in detail how the latest developments in nuclear sector will affect the Indian power industry in future.
About RNCOS:
RNCOS, incorporated in the year 2002, is an industry research firm. We are a team of industry experts who analyze data collected from credible sources. We provide industry insights and analysis that helps corporations to take timely and accurate business decision in today's globally competitive environment.
For more information visit: http://www.rncos.com/Report/IM162.htm
Current Industry News: http://www.rncos.com/Blog/
Featured Product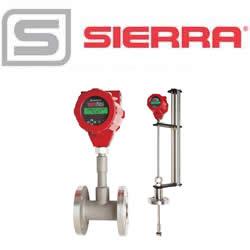 Sierra was the first to introduce a combination volumetric vortex and multivariable mass flow meter in 1997. Today, Sierra's completely redesigned InnovaMass® iSeries™ 240i/241i builds on two decades of success measuring five process variables for gas, liquid and steam with one connection. Now, with the latest hyper-fast microprocessors, robust software applications, field diagnostic and adjustment capability, and a new state-of-the-art flow calibration facility, Sierra's vortex iSeries delivers precision, performance, and application flexibility never before possible.