Even though winter energy price projections have come down, consumers already facing a tough economic climate are likely to be paying more to heat their homes this winter than they spent a year or two ago, according to the Alliance to Save Energy.
Energy Efficiency Helps Consumers 'Weather' Heating Bills at Time of Economic Strain for Many, Says Alliance to Save Energy

Federal Tax Credits Available in 2009 for Energy Efficiency Home Upgrades
Washington, D.C., December 2008 - Even though winter energy price projections have come down, consumers already facing a tough economic climate are likely to be paying more to heat their homes this winter than they spent a year or two ago, according to the Alliance to Save Energy. High home heating costs make energy efficiency as timely as ever, says the Alliance, which also highlights new federal income tax credits for homeowners who make energy efficiency home improvements in 2009.
• Those who heat with natural gas will spend almost $900 this winter, an increase of about 4 percent over last winter and 9 percent over winter 2006-7.
• Consumers using home heating oil will spend almost $1,700 this winter - a decrease of 13 percent compared to last winter but an increase of 17 percent from 2006-7.
• Propane users will spend about $1,550 this winter, a decrease of 8 percent from last winter but 15 percent more than two years ago.
• Consumers with electric heat will spend almost $950 this winter, almost 10 percent more than last winter and 14 percent more than two years ago.
"The average U.S. household will spend $2,300 on home energy this year -7 percent more than last year and 12 percent more than in 2006 - with winter heating bills taking a large 'bite' out of household budgets going into next year," noted Alliance President Kateri Callahan. "At a time of financial stress and strain for many, simple yet effective energy-saving steps are the way to go - not only to save money, but also to make homes more comfortable and help protect the environment.
"New federal income tax credits for energy efficiency home upgrades made in 2009 can partially offset the up-front cost of new equipment such as highly efficient furnaces and heat pumps or ENERGY STAR windows," she continued. "All the details are on the Alliance consumer website at www.ase.org/taxcredits.
"Another consideration is that powering the average U.S. home produces more than twice the greenhouse gas pollution as the average car - 25,000 pounds of carbon dioxide annually compared with 12,000 pounds for a typical car," Callahan added. "So when you use energy efficiency to lower your home energy bills, you also are helping the planet."
The Alliance suggests the following winter home energy tips:
• Smart Fix - Plug up leaks to the outside - Seal air leaks with sealant, caulking, and weather stripping; and install appropriate insulation for your climate to increase your comfort, make your home quieter and cleaner, and reduce your heating (and summer cooling) costs up to 20 percent. In 2009, these energy efficiency improvements can also generate a federal income tax credit of up to $500 for 10 percent of the cost of the materials (but not installation).
• Properly maintain your HVAC system. Just as a tune-up for your car can improve your gas mileage, a yearly tune-up of your heating and cooling system can improve efficiency and comfort. Consider a semi-annual or yearly professional "tune-up" of the system to ensure it is working efficiently. The federal government's ENERGY STAR website can help you find a qualified individual (www.energystar.gov/index.cfm?c=heat_cool.pr_contractors_10tips).
• Keep furnace filters clean. Check your filter every month, especially during heavy use months (winter and summer), and change it if it looks dirty. At a minimum, change the filter every 3 months. A dirty filter will slow down air flow and make the system work harder to keep you warm or cool - wasting energy. A clean filter will also prevent dust and dirt from building up in the system - leading to expensive maintenance and/or early system failure.
• Let a programmable thermostat "remember for you" to lower the heat while your home is empty and/or overnight to reduce heating costs by up to 10 percent - and allow you to come home to and wake up to a toasty, comfortable house.
• Consider installing ENERGY STAR qualified heating and cooling equipment. If you have to replace your HVAC equipment, consider a unit that has earned the ENERGY STAR. Installed correctly, these high-efficiency units can save up to 20 percent on heating and cooling costs. Certain highly efficient models quality for a federal income tax credit in 2009.
• Seal your heating and cooling ducts. In a typical house, about 20 percent of the air that moves through the duct system is lost due to leaks, holes, and poorly connected ducts. Sealing and insulating ducts increases efficiency, lowers home energy bills, and can often pay for itself in energy savings. Also, a well-designed and sealed duct system may make it possible to downsize to a smaller, less costly heating and cooling system that will provide better dehumidification. Insulate ducts in unheated areas such as attics, crawlspaces, and garages with duct insulation that carries an R-value of 6 or higher.
• Insulate your hot water storage tank according to manufacturer's directions (being careful not to cover the thermostat or the burner compartment in an oil- or natural gas-powered tank) and the first six feet of the hot and cold water pipes connected to the water heater, too.
• Open curtains and other window treatments on your west- and south-facing windows during the day to allow sunlight to naturally heat your home, and close them at night.
• Go "window shopping" at www.efficientwindows.org to discover how high-performance ENERGY STAR-labeled windows can cut heating and cooling costs by as much as 30 percent while increasing indoor comfort and lessening fading of home furnishings. ENERGY STAR windows, too, are eligible for a federal tax credit in 2009 - 10 percent of the cost (but not installation) up to $200.
• Also look for the ENERGY STAR label, the symbol of energy efficiency, when replacing or buying appliances, electronics, lighting and many other product categories. See www.energystar.gov for details on all 50 types of products.
Many more winter tips are available on the Alliance to Save Energy's consumer website at www.ase.org/consumers and http://www.ase.org/content/article/detail/924.
####
The Alliance to Save Energy is a coalition of prominent business, government, environmental, and consumer leaders who promote the efficient and clean use of energy worldwide to benefit consumers, the environment, the economy, and national security.
Featured Product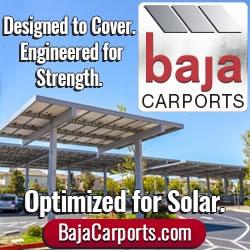 Baja Carports offers an extensive solar support system product line customized to customers' site specifications by in-house engineers, meeting their parking lot coverage, plus optimal PV production needs. Baja's Full Cantilever Tee is often paired with its Semi and Full Cantilever carports to meet live/loads up to 60psf and wind speeds to 160mph. All Baja products are pre-fabricated, bolted connections, pre-galvanized structural steel for fast on-site installation and project aesthetic requirements."