Platform for the energy supply of the future - renewable and efficient
Platform for the energy supply of the future - renewable and efficient

The interest in renewable energy as a vital part of the future energy supply is growing, especially in the Central European area. After the magnificent success of the RENEXPO® Central & South-East-Europe 2007 and 2008 in Budapest, the international trade fair and conference will present itself for a third year under a different name and cover the topics of renewable energy, energy-efficient construction and renovation. The RENEXPO® Central Europe will open its doors from 16th -18th April 2009.
Themes range from bio energy - especially heavy investments in biogas - as well as energy-efficient construction and old building renovation, to solar and wood heating, right through to geothermal energy, heat pumps, hydro power, and wind energy.
Traditionally, the trade fair's international orientation is strengthened through a partner country presentation. This year, Germany will represent this part and include its know-how and network partners. For this reason, attendance and participation from important economic experts are expected, which in turn, strongly contributes to the advancement of bilateral relationships, to the strengthening of transnational economic relationships, and to the exchange of expert knowledge in the area of environmental protection.
Because the common stand of the Wirtschaftskammer Österreich (WKO) - The Austrian Federal Economic Chamber was conducted so successfully, concentrated participation from Austria is planned again this year and supported through WKO as well as other organizations. Germany will also be represented with a common stand.
The topic of passive houses will be given special priority - strong presences especially in this area are expected from the two countries above.
Sweden is interested in investment and cooperation opportunities for bio energy. France is looking for contacts in geothermal and wind energy.
Great Britain approximates itself more to Central Europe and plans to participate strongly in a knowledge and expertise center for renewable energy. The first presentation from English firms at the last RENEXPO® in Budapest was deemed successful and now, more firms are expected.
REECO cultivates active contacts in various areas of the neighboring countries Romania, Slovenia, Croatia, and Serbia and anticipates significant delegation attendance.
Thus, the third Budapest RENEXPO® Central Europe is set to be a pivotal moment in the development of renewable energy in Hungary and in the region.
Featured Product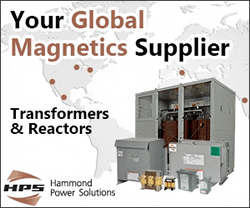 HPS is the largest manufacturer of dry-type transformers in North America. We engineer and manufacture a wide range of standard and custom transformers that are exported globally in electrical equipment and systems. We support solid industries such as oil and gas, mining, steel, waste and water treatment, and wind power generation. HPS leads the industry in these markets through its technical design strength, breadth of product, and manufacturing capabilities, making HPS a stronger company both fundamentally and financially.