Ascent Solar today announced that it has achieved greater than 9.5% efficiency for its flexible, CIGS monolithically integrated modules. NREL says, "This appears to be a substantial leap toward realizing high-performance, inexpensive thin-film solar photovoltaics."
Ascent Solar Achieves Significant Efficiency Milestone

Wednesday December 3, 6:00 am ET
LITTLETON, Colo.--(BUSINESS WIRE)--Ascent Solar Technologies, Inc. (NASDAQ:ASTI - News), a developer of state of the art flexible thin-film solar modules, today announced that it has achieved greater than 9.5% efficiency for its flexible Copper, Indium, Gallium, Selenide (CIGS) monolithically integrated modules.
The U.S. Department of Energy's National Renewable Energy Laboratory (NREL) has independently verified that the modules measured as high as 9.64% in conversion efficiency. The modules tested at NREL were produced from the company's 1.5MW pilot production line.
"We have been working to achieve these efficiencies during our internal optimization process, and we view this achievement as a tremendous breakthrough. The test modules measure six inches wide by one foot long and serves as our building block for portable power and building integrated photovoltaic (BIPV) products," said Dr. Prem Nath, Sr. Vice President of Manufacturing for Ascent Solar. "Our goal continues to be the commercialization of flexible thin-film CIGS modules using a plastic substrate, which we hope will uniquely position Ascent Solar to provide light weight flexible photovoltaic material at low cost."
Lawrence Kazmerksi, Executive Director at NREL, said, "This is significant. Many doubted that a thin-film CIGS solar cell-on-plastic technology could be possible. Ascent Solar not only achieved this, but they now have confirmed efficiencies at NREL on fully integrated, monolithic prototype modules near 10%. This appears to be a substantial leap toward realizing high-performance, inexpensive thin-film solar photovoltaics."
About National Renewable Energy Laboratory:
The National Renewable Energy Laboratory (NREL) is the nation's primary laboratory for renewable energy and energy efficiency research and development (R&D).
About Ascent Solar Technologies:
Ascent Solar Technologies, Inc. is a developer of thin-film photovoltaic modules with substrate materials that can be more flexible and affordable than most traditional solar panels. Ascent Solar modules can be directly integrated into standard building materials, space applications, consumer electronics for portable power or configured as stand alone modules for large scale terrestrial deployment. Ascent Solar is located in Littleton, Colorado.
Forward Looking Statements
Statements in this press release that are not statements of historical or current fact constitute "forward-looking statements." Such forward-looking statements involve known and unknown risks, uncertainties and other unknown factors that could cause the Company's actual operating results to be materially different from any historical results or from any future results expressed or implied by such forward-looking statements. In addition to statements that explicitly describe these risks and uncertainties, readers are urged to consider statements that contain terms such as "believes," "belief," "expects," "expect," "intends," "intend," "anticipate," "anticipates," "plans," "plan," to be uncertain and forward-looking. The forward-looking statements contained herein are also subject generally to other risks and uncertainties that are described from time to time in the Company's filings with the Securities and Exchange Commission.
Contact:
For Ascent Solar Technologies, Inc.Brian Blackman, 832-515-0928 (Investor Relations)bblackman@ascentsolar.comorBrand Fortified Public RelationsKelly Brandner, 303-289-4303 (Media)kellybrandner@msn.com
--------------------------------------------------------------------------------
Source: Ascent Solar Technologies, Inc.
Featured Product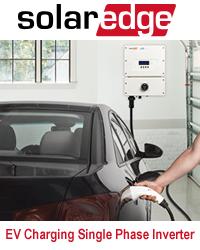 The SolarEdge PV inverter combines sophisticated digital control technology with efficient power conversion architecture to achieve superior solar power harvesting and best-in-class reliability. The fixed-voltage technology ensures the solar inverter is always working at its optimal input voltage over a wider range of string lengths and regardless of environmental conditions. A proprietary data monitoring receiver has been integrated into the inverter and aggregates the power optimizer performance data from each PV module. This data can be transmitted to the web and accessed via the SolarEdge Monitoring Portal for performance analysis, fault detection and troubleshooting of PV systems.