Sustainable Energy Partners With Spanish Solar Project Developer to Co-Market Thin Film PV Solutions for Spanish Rooftop Market
CALGARY, ALBERTA, Dec 4, 2008 (Marketwire via COMTEX) -- Sustainable Energy Technologies Ltd. (STG), ("the Company" "STG" or "Sustainable") announced today that it has signed an agreement with Solaer SA (http://www.solaer.net/), one of Spain's leading solar power project developers, to co-market massively parallel thin film PV ("TFPV") bundles for industrial and commercial rooftops in Spain. The bundles will consist of thin film PV modules supplied by select thin film PV module manufacturers, Sustainable Energy's power inverter, wiring assemblies, and in some cases, pre-cut racking to match PV modules.

Thin film PV has a lower cost/watt, and delivers more (12% to 15%) kilowatt hours per rated watt in warm weather climates, than conventional crystalline modules. Sustainable Energy's massively parallel system design levers the cost/watt advantages of thin film PV on rooftops and in building integrated applications by increasing total system yields under real world conditions and reducing system design and installation costs.
"We are very excited about the massively parallel design concepts, which are unique to the industry," said Gabriel Cuartero, CEO of Solaer. "They simplify system design and installation for typical Spanish industrial rooftops, and are very easy to sell. Smaller (5kW - 60kW) rooftop systems will be the back bone of solar PV industry in 2009 and future years, and we are targeting between 6 MW and 10 MW of total systems for 2009."
"Our partnership with Solaer represents an important milestone in the execution of our strategy to position our products and technologies within this segment of the market," said Michael Carten, President & CEO of Sustainable Energy.
"Like other EU countries, Spain has recently signalled that it wants solar power installed on rooftops, where it has the greatest potential to achieve grid parity. Over the next few months, our strategy is to demonstrate the power of our massively parallel approach to reducing the cost of solar power, and increasing investor yields in rooftop applications in Spain and other markets. In addition to our agreements in Spain, we are currently in the process of building a series of similar strategic relationships in the other major markets, including Germany, Italy, France and the United States, added Carten."
Under their agreement, Solaer and Sustainable will share revenues and costs on all thin film rooftop systems sold by Solaer, equally, and will collaborate on refining system design and installation procedures, as well as sharing other market intelligence gained through the co-marketing process. Sustainable estimates the market value of installed rooftop solar PV systems in Spain at approximately $6 - $6.5 million per megawatt. Sustainable's interest in agreement will be held through its previously announced joint venture with the Copcisa group (http://www.copcisa.com/).
About Massively Parallel Systems
With most solar PV system designs in use today, partial shading of one or modules from normal building congestion, debris and even air pollution has a disproportionate impact on total system performance. A similar result occurs where PV modules are not identically aligned, or where there are variances in power output due to manufacturing tolerances. The phenomenon is similar in principle to that experienced with strings of Christmas tree lights. When one PV module is operating at a level that is below others in the string it will reduce the power output for all PV modules in the string to the level of the poorest performing modules.
This is a serious issue with building based systems and now requires PV specialists to design and install the systems to avoid the impact of externalities on system performance.
In a massively parallel system, each module operates at its optimal power output level independently of the other modules in the system eliminating this systemic effect and reducing installation costs. The improvements in performance are always site and time specific, but the evidence is that massively parallel system designs can improve system yields by 5% - 20%.
Conventional solar inverter technologies are unable to support massively parallel systems without seriously compromising electrical conversion efficiencies.
About Spain
New incentive pricing regulations announced in late September have revived the Spanish solar market, which was essentially dormant from Q1 2008, due to uncertainties about future government policies. The regulations are complex, but generally a total of 500 MW will be eligible to receive incentive pricing for solar electricity each year. Of this 267 MW (54%) must be for building based systems in 2009 increasing to 330MW (66%) in 2012. Feed in pricing is reduced immediately from EUR 0.44/watt to EUR 0.32/watt to EUR 0.34/watt. Spain also requires that all new non residential buildings include minimum levels of solar PV.
About Sustainable Energy
Based in Calgary Alberta, Sustainable Energy Technologies designs, manufactures and distributes power inverters for distributed solar PV markets.
Unlike conventional solar inverters, the Company's patented technologies enable solar panels to be installed in a "massively parallel" alignment, where each panel operates at its optimum power point. Massively parallel systems result in higher total system yields under real world conditions and enable solar panels to follow the shape of the building without compromising system output. Massively parallel systems also enable solar panels to be installed anywhere by anyone, eliminating the need for custom design specialists, and making solar more accessible and easier to install and maintain.
Forward Looking Information
The reader is advised that most of the information and the views expressed herein constitute forward-looking statements within the meaning assigned by National Instruments 51-102 and other relevant securities legislation. In particular, we include: statements on the future size of the solar PV market and segments thereof as well as the size of the solar inverter market; statements concerning the impact of changes in the industry on our business prospects; and statements concerning the performance of our technologies. Except where expressly noted, the conclusions expressed represent management's perspectives on the industry and the Company's technology.
Forward-looking information is not a guarantee of future performance and involves a number of risks and uncertainties, only some of which are described herein. Many factors could cause the Company's actual results, performance or achievements, or future events or developments, to differ materially from those expressed or implied by the forward-looking information. Readers are cautioned not to place undue reliance on forward-looking information, which speaks only as of the date hereof. The Company does not undertake any obligation to release publicly any revisions to forward-looking information contained herein to reflect events or circumstances that occur after the date hereof or to reflect the occurrence of unanticipated events, except as may be required under applicable securities laws.
Featured Product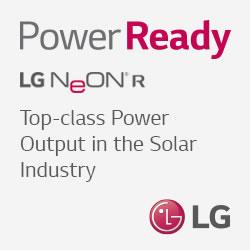 The NeON R module features "Back Contact" cell technology delivering an entirely black panel that is aesthetically pleasing and energy efficient. The cell's seamless, surface blends perfectly into nearly all rooftop designs while the module's electrodes are positioned on the rear of the cell. Using LG's N-type cell structure, the panels produce 365W of energy, up to 7.3kWp, compared to 5.8kWp of the p-type cell. The module's new design minimizes LID, thereby delivering a longer lifespan and increased energy output.