The Western Australian Sustainable Energy Association Inc. (WA SEA), the peak body for sustainable energy industries in WA, welcomes the news that Horizon Power, SunPower Corporation Australia and PowerCorp Pty Ltd are to build the first hybrid solar photovoltaic diesel power stations in the world.
The power stations are the first high penetration hybrid solar photovoltaic diesel power stations in the world, and the largest installation of solar in Western Australia. Horizon Power today announced the plans to build two state-of-the-art solar power stations in in Marble Bar and Nullagine, in the east Pilbara region of Western Australia.

The project will include the installation of up to 2000 solar panels in total across both towns. The solar arrays in both towns will feature solar tracking systems that will follow the path of the sun in each town throughout the day. The ground-mounted systems will be the largest solar tracking PV systems in Australia.
Flywheel technology will also be used to smooth the energy from the solar panels and to stabilise power quality between the diesel power station and the solar farm. It will also maximise the utilisation of the solar energy.
Horizon Power is working with development partners PowerCorp Pty Ltd and SunPower Corporation Australia to build, own and operate the new power stations.
Energy Minister, Peter Collier, said "Solar power is an abundant, reliable, clean source of energy. Horizon Power is leading the way by innovatively combining conventional diesel generation with this state-of-the-art renewable energy option.
"This new technology will lessen our carbon footprint and improve our environment for the future," he said.
Horizon Power's Managing Director, Rod Hayes said "Horizon Power is excited to be driving a project that will set a new standard in large-scale renewable energy technology in Australia.
"The project will replace ageing power stations with modern, efficient and more environmentally-friendly power stations that will be able to meet the needs of local communities for the next twenty years," said Mr Hayes.
"Horizon Power vigorously pursues renewable energy options for power generation and is pleased that regional Western Australians will be able to experience the benefits of leading-edge, large-scale renewable energy technology as a result of our partnership with SunPower and PowerCorp.
"There is no doubt that much of WA can be powered on clean, renewable energy," says Dr Ray Wills, Chief Executive of WA SEA.
"The technology is here, the ideas are here, the investment potential is here. Western Australia has massive renewable energy resources - we are the Middle East of renewable energy, we simply need to roll out projects to take advantage of it," says Dr Wills.
"And many of these opportunities are across regional Western Australia, and so will be developments that produce greater investment in regional WA, bringing new projects, new jobs and better outcomes for communities in the bush at a time when "fiscal stimulus" is the order of the day."
"At the same time, making use of renewable energy in WA will diversify and grow our sources of energy, will help ensure energy security for the State, and create a more sustainable economy for Western Australia," says Dr Wills.
"And on the other side of the ledger, failing to deal with greenhouse gas emissions will be expensive - it may well cost the Earth."
WA Sustainable Energy Association Inc. (WA SEA) Media Release - 11 December 2008
Media Contact:
Dr Ray Wills 0430 365 607
Editors notes:
1. Horizon Power is an electricity generator, network operator and retailer that is sharply focused and dedicated to servicing the needs of customers in regional Western Australia; from remote and isolated communities to some of the biggest resource companies in Australia. Horizon Power services an area of 2.3 million square kilometers and strives to provide viable and leading-edge energy solutions that are focused on the long-term needs of communities. Horizon Power http://www.horizonpower.com.au
2. SunPower Corporation designs, manufactures and markets high-performance solar electric technology worldwide. SunPower's high-efficiency solar cells and panels generate up to 50 percent more power per unit area than conventional solar technologies. SunPower Corporation Australia http://www.sunpowercorp.com.au
3. Powercorp http://www.pcorp.com.au/
4. The Western Australian Sustainable Energy Association Inc. (WA SEA) is a chamber of businesses variously promoting, developing and/or adopting sustainable energy technologies and services that minimise the use of energy through sustainable energy practices and maximise the use of energy from sustainable sources. WA SEA is supported by a growing membership of over 200 industry members from a diversity of business interests. www.wasea.com.au.
Featured Product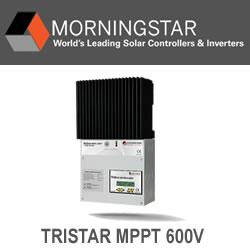 Morningstar's TriStar MPPT 600V charge controller leverages Morningstar's innovative TrakStar™ MPPT technology and our 20+ years of power electronics engineering excellence, to enable the widest input operating voltage range available from a solar array, wind turbine or hydro input. This controller's standard and DB versions are for off-grid applications, and the TR versions were developed to enable retrofitting grid-tied systems with battery backup.