RainTube's Cradle to Cradle certification sets stage for starring rainwater collection role at roof/gutter level.
Jacksonville, OR, December 12, 2008: GLI Systems Inc. of Jacksonville, Oregon, maker of sustainable RainTube rain water control products, announces completion of an installation in the first pending Platinum Level LEED Certified home in Houston, TX. The LEED Platinum certification, recognizes that the structure has achieved the very highest level of sustainable design.

RainTube was selected for the 6,000 square foot home in order to provide efficient, clog-free rain water collection at the roof/gutter level and because of its certified, hyper-green manufacture. The project, located on Virginia Point in Houston, was designed by Adams Architects Inc. and constructed by Dovetail Builders. One of the projects many "green" features is a rain water harvesting system capable of providing all the water needs of the home. RainTube of Houston, owned by Jeff Corcoran, performed the RainTube installation as specified by Houston area rain water harvesting consultant Sparkle Tap.
RainTube is an innovative, porous, recycled plastic tube that is made to fit snuggly into existing gutter systems. RainTube is virtually transparent to water allowing it to flow through during rains of over 100 inches per hour. At the same time, it effectively keeps out clogging materials and the weight of snow and ice. RainTube is especially attractive for rain water harvesting applications because it efficiently and affordably performs both collection and pre-filtering functions.
In July 2008 RainTube achieved a rare Gold Tier Cradle-To-Cradle Certification from MBDC. This placed RainTube in an undisputed leadership position at the highest levels of environmental friendly products. The certification means RainTube can provide valuable bonus LEED points for innovation on projects such as the Virginia Point Platinum level home. Cradle to Cradle is Internationally recognized as the worlds leading environmental products certification organization. Green building, an ecologically sound method of residential and commercial construction, has become a major area of interest and concern among consumers and the building industry worldwide.
RainTube manufactures effective, low-cost, water collection, gutter protection systems and rain water harvesting products made in the USA from 100% post-consumer recycled materials. RainTube helps protect homes, apartments and commercial buildings from water damage from clogged gutters, reduces fire risk from gutter debris (in compliance with new fire prevention building codes), reduces maintenance and promotes cleaner rain water harvesting systems. RainTube was awarded Sustainable Product of the Year in 2007 and 2008 and was also named one of the world's top ten green building products.
Steve Spratt, co-founder of GLI, said "We are very happy to have had the opportunity to play a part in this extraordinary LEED home. Projects such as this demonstrate that it is possible to design and build affordable, low impact and highly efficient structures with existing technologies. RainTube is strategically moving forward with new and innovative products for rain water control, collection and reuse. Many individuals and companies played a role in creating this beautiful Platinum Level home. The fact that RainTube has helped to elevate the awareness and importance of eco-sustainability in the world theater is a source of great satisfaction to everyone in our company."
Featured Product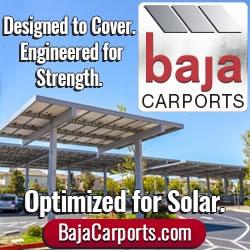 Baja Carports offers an extensive solar support system product line customized to customers' site specifications by in-house engineers, meeting their parking lot coverage, plus optimal PV production needs. Baja's Full Cantilever Tee is often paired with its Semi and Full Cantilever carports to meet live/loads up to 60psf and wind speeds to 160mph. All Baja products are pre-fabricated, bolted connections, pre-galvanized structural steel for fast on-site installation and project aesthetic requirements."