Clayton Power's series of Combies are the most compact in its class of a pure sine wave inverter and charger in a single unit. The Combi series is the third generation of mobile power systems from Clayton Power and distinguished by being very robust and compact.
The new Combi series has a range of functions providing high reliability and functionality to the user whether in the automotive, marine or industrial sector. the Combi series spans over 230 VAC models in both 12 and 24 volt versions.

"It has managed to create an incredibly small and compact device of very high quality" said mr. Janick Lauenborg, Clayton Power. "I am sure the market will accept such a well produced product, it is even at very competitive prices."
The Combi products have passed several tests for excellence and is extremely strong when it comes to resist vibration and harsh environment. The Inverter/Charger models are available in various models; 1000, 1300, 1500, 2000 and 2300 watts efficiency of the inverter section, with 30 to 100A charge efficiency.
The function of Inverter/Charger in one unit can provide usefully serve as UPS and backup power when the automated features already installed and ready for use.
For more information and picture of the Inverter/Charger series please visit: http://www.claytonpower.com/products/combies/
Clayton Power was founded in the late 1990s in Denmark and develops power products for mobile power systems, and Battery Management Systems for industrial and leisure-based use. Clayton Power has a great know-how in technologies, including Lithium Battery Systems.
Europe, January 05, 2009.
Clayton Power GmbH

Oberwolfhauserstrasse 10

8633 Wolfhausen 
Switzerland
Featured Product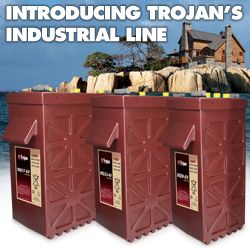 Trojan's deep-cycle batteries provide rugged durability, outstanding performance and long life for use in all types of solar energy installations. With over 90 years of experience, Trojan delivers the world's most reliable and trusted batteries in flooded, AGM, Gel, and Lithium types. These batteries enable solar equipment systems to operate at a peak level of performance in the harshest conditions or the most challenging of locations and are manufactured and tested to IEC standards.