Harvey Michaels, of MIT, has joined energy services firm Conservation Services Group's Board of Directors. For the past 30 years, Michaels has been a leading expert in developing approaches to energy efficiency and demand response.
WESTBOROUGH, Mass., Jan. 6, 2009 - Conservation Services Group (CSG) today announced the appointment of Harvey G. Michaels to its board of directors, according to Stephen L. Cowell, chief executive officer.
For 30 years, Michaels has been a leader in developing consumer-centric approaches to enabling energy efficiency and demand response and is a frequent speaker and writer on the topic. In 2008, he joined the Massachusetts Institute of Technology as energy efficiency research director and lecturer with a dual appointment to the M.I.T. Energy Initiative and the Environmental Policy and Planning Program. In addition to teaching his popular class, Enabling an Energy Efficient Society, Michaels supports related research and thesis topics within M.I.T. and advises the student-run Energy Club.
Before joining M.I.T., Michaels developed two companies supporting utility deployment strategies for energy efficiency and demand response. From 1997 to 2007, he was founder and CEO of Nexus Energy Software in Wellesley, Mass. (now Aclara Software). There, he built utility Web sites to help consumers and businesses reduce their energy costs, as well as smart grid meter data management systems. Under his leadership, Nexus also developed energyguide.com, a favorite site of Al Gore's, referenced in An Inconvenient Truth. For more than 17 years before founding Nexus, Michaels was president of XENERGY (now part of Kema Consulting and Con Edison Solutions), based in Burlington, Mass. There, he developed its policy consulting, software, integrated resource planning, and DSM evaluation business areas. He also specialized in efficiency resource studies and analysis.
Michaels has published dozens of papers in industry publications such as Metering International Journal and Hart's Energy Markets. He was named one of the Top 50 People in Energy IT by New Energy Economy magazine in 2001. He also received the E-Business Leader Award from the Massachusetts E-Commerce Association. He has served on the boards of the Demand Response and Advanced Meter Coalition and the Northeast Energy Efficiency Council.
Michaels holds B.S degrees in civil engineering and urban studies, as well as a master's degree in city planning from M.I.T. He is a native of the New York metropolitan area and a resident of Wayland, Mass.
Cowell said, "We are very fortunate to have Harvey on our board of directors. His technical expertise, long term vision and experience in virtually every aspect of energy efficiency will be a tremendous asset in helping to guide the direction of CSG for years to come."
Conservation Services Group, celebrating its 25th anniversary, is a national energy services firm based in Westborough, Mass. Founded in 1984, the company provides energy saving strategies, program design, management services and technologies to consumers and businesses. For more information visit, www.csgrp.com.
###
Featured Product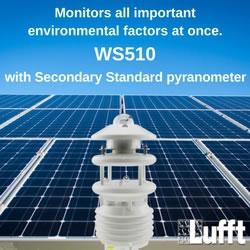 Professional weather sensors form the heart of large solar plants supporting their operation and performance. Lufft was the first manufacturer to combine several sensors in one housing, bringing the largest multiparameter weather sensor family with 19 members into being. Many of them are well-suited for solar site assessment and continuous monitoring. The most commonly used one is the WS600 delivering data on temperature, air pressure, wind, relative humidity and precipitation. Through its open protocol, it can easily be attached to radiation sensors e.g. from Kipp&Zonen. Other models have an integrated Silicon, Second Class or Secondary Standard radiation sensor.