Lighting efficiency standards proposed in the Bush administration's final days leave huge energy and dollar savings, as well as huge pollution reductions, on the table, according to a coalition of energy efficiency organizations.
Washington D.C.; January 15, 2009 - Lighting efficiency standards proposed in the Bush administration's final days leave huge energy and dollar savings, as well as huge pollution reductions, on the table, according to a coalition of energy efficiency organizations. The proposed new efficiency standards would cover the ubiquitous fluorescent tube lamps found in nearly every office and the equally common cone-shaped reflector lamps found in homes and businesses. The coalition, comprised of the Appliance Standards Awareness Project (ASAP), the American Council for an Energy-Efficient Economy (ACEEE), the Alliance to Save Energy, and the Natural Resources Defense Council (NRDC), today urged the incoming Obama administration to take quick action to strengthen the new standards.

The lighting standard is the largest potential energy saver among 25 new appliance efficiency standards that the Obama administration must complete during the next four years under court orders and congressional deadlines. By comparison, the Bush administration finished just four in eight years.
"On day one, President Obama can start to meet his energy-efficiency promises by fixing these standards." said Andrew deLaski, ASAP Executive Director. "President Bush fumbled the hand off, but President Obama still can score big energy and dollar savings for America with a strong standard."
President-elect Obama has committed to make "America the most energy efficient country in the world" and specifically vowed during the campaign to overhaul the federal efficiency standards effort. He committed to reduce U.S. electricity use by 15 percent by 2020 and to meet part of the goal with improved efficiency standards.
"Under President Bush, we've repeatedly heard, "No, we can't," when it comes to energy efficiency," said Steven Nadel, executive director of ACEEE. "We expect the new administration's response to be, 'Yes, we can.'"
The new administration inherits the flawed proposal on Inauguration Day and must issue final standards by the end of June. The final standards must be based on the proposed rule and input received during a 60-day comment period. The new administration could issue a new or supplementary proposed rule, if necessary, to broaden the range of possible outcomes for the final standard.
"Strong lighting efficiency standards would have been a valuable parting gift from the Bush administration of money and energy savings," said Alliance to Save Energy Vice President for Programs Jeffrey Harris. "We urge the incoming Obama administration to begin making energy efficiency the cornerstone of our strategy to reduce greenhouse gas emissions by issuing much tougher lighting standards."
"Standards spur more investment in energy efficiency and pay for themselves many times over," said Lane Burt, energy policy analyst with Natural Resources Defense Council. "It makes no sense to turn away from guaranteed returns in lighting efficiency during an economic crisis. The Bush Administration is leaving as much as $26 billion on the table that could go into the pockets of business owners and consumers."
In the proposal, posted to the Department of Energy's (DOE) website yesterday, the outgoing administration said "no" to higher standards for general service fluorescent lamps which, according to the agency's own analysis, would save more energy, save more money and avoid more pollution than the proposed standards. DOE also said "no" to requests that the agency cover the most common type of reflector lamps, called BR lamps in the trade, with the new standards. These exempted BR lamps account for about 40 percent of total reflector lamp sales, according to DOE.
According to DOE, about 500 million general service fluorescent lamps are sold annually in the U.S., most for lighting offices. About 265 million reflector lamps are sold each year, split between homes and commercial buildings such as retail stores.
DOE found that for general service fluorescent lamps, standards higher than those proposed would, over 30 years, increase total energy savings by 1.3 to 5.9 quads of electricity (i.e. 130 to 570 billion kilowatt hours or enough to meet the total power needs of 10 to 50 million U.S. households); increase net economic savings for businesses and consumers by another $11 to $26 billion; and reduce carbon dioxide emissions by another 56 to 285 million metric tons (an amount equal to that emitted by about 10 to 52 million cars in a year).
According to ACEEE, covering the BR lamps, too, would increase savings by another 1.3 quads of electricity (another 130 billion kilowatt hours) and net consumers about $4 billion in savings over 30 years.
The efficiency coalition did find some good news in the Bush proposal with respect to the efficiency level proposed for reflector lamps.
"DOE is on the right track with the efficiency levels for reflector lamps," said Nadel, "though they may be able to go a little higher than the level proposed." He emphasized that the big issue for reflectors is making sure the standards cover the most common variety, the BR lamps.
This standard is the last proposed in a series of disappointments from the Bush administration. Furnace standards issued in 2007 are so weak that 99 percent of products already comply - even though the Bush standards are not effective until 2015. Utility transformer standards, also issued in 2007, are weaker than levels supported by the utility industry itself, and by one of the biggest transformer manufacturers. States and advocacy organizations have sued DOE to force reconsideration of those two standards.
In 2007 DOE also rejected home heating boilers standards which had been jointly recommended by the boiler makers and environmental and efficiency organizations. Congress later overturned DOE's rejection by enacting those consensus standards.
Featured Product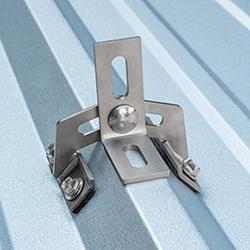 QuickBOLT Low Profile QuickBOLT with Microflashing™ is the industry's affordable, UL Certified Asphalt Shingle mounting system. The Microflashing™ is compressed by the collar on the bolt to create a water-tight seal. With an installation time of less than one minute, the Low Profile QuickBOLT allows installers to complete more jobs.