Namasté Solar Ribbon-Cutting for Green Building - LEED Gold Certification Pending Thursday, January 15, 2009 4pm at 4571 Broadway in North Boulder Followed by Tours of Green Building Features
MEDIA ALERT

Contact: Heather Leanne Nangle - Co-Owner, Director of Marketing & Communications
Phone: 303.447.0300 x220
Email: hlnangle@namastesolar.com
Web: NamasteSolar.com
NAMASTÉ SOLAR'S GREEN BUILDING
RIBBON-CUTTING & MEDIA RECEPTION
Thursday, January 15, 2009
Ribbon-cutting at 4pm at 4571 Broadway in North Boulder
Followed by Tours of Green Building Features
Boulder, CO - The Boulder Chamber of Commerce will honor Namasté Solar, Colorado's leading solar installer, at its ribbon-cutting event on Thursday, January 15, 2009 at 4pm at 4571 Broadway in North Boulder. Following the ribbon-cutting, media representatives and Chamber members will be given tours of the new building and learn about the numerous green features of the building, which is pending LEED Gold Certification. There will be an opportunity to meet and interview company co-owners, take photos of the ribbon-cutting and the building's green features, and learn more about Namasté Solar's unique mission and business model. Currently, the company employs 54 individuals, 40 of whom share ownership in the organization.
"This new building marks our commitment to bring solar technologies to Colorado, and our mission to protect the environment," said Blake Jones, CEO and co-owner of the company. The 15,000 square foot building was renovated using the highest green building standards such as the use of recycled or reused building materials, access to public transportation, the use of natural light, and the use of alternative energy - which includes roof and awning solar arrays installed by the company. These important investments support the project's pending LEED Gold certification.
With over 3 megawatts installed since its inception in 2005, Namasté Solar has been responding to the increasing demand for solar electricity in the greater Denver/Boulder area. In 2008, Namasté Solar opened offices in Denver at 1610 Wynkoop St. #105 to better serve customers in and around Denver. Recent solar projects have included the Colorado Convention Center, Denver Museum of Nature & Science, Colorado Coalition for the Homeless, The Nature Conservancy, and Boulder County's Clinica Campesina.
About Namasté Solar:
Namasté Solar propagates the responsible use of solar energy, pioneers conscientious business practices, and creates holistic wealth for the community. Dedicated to bringing clean, reliable, and affordable renewable energy technologies to homes, businesses, and nonprofit organizations in Colorado, Namasté Solar has installed over 3 MW since 2005. Its unique values-based business model includes employee ownership, community collaboration, a solar donations program, zero-waste initiatives, educational programming, and holistic profit measurement. Namasté Solar is committed to maintaining the highest standards of environmental stewardship, customer satisfaction, employee morale, community involvement and professional integrity.
###
Featured Product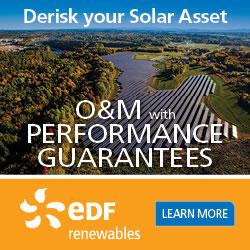 EDF Renewables offers the same innovative solutions that maximize the performance of our own 5.2 GW of installed projects. Because we're not an equipment manufacturer, our recommendations are transparent and data-driven. We cover the entire project lifecycle: from pre-commissioning support, through warranty and post warranty operation, to late stage and decommissioning.