EcoGreenHotel has rolled out the "Sustainability Support Program," a green solution for a troublesome 2009.
January 20th, 2009 - EcoGreenHotel has rolled out the "Sustainability Support Program," a green solution for a troublesome 2009. The program allows hotel owners and operators to begin a green initiative at their property. The program evaluates the sustainability of a property and then sets in motion the actions to further progress its eco-friendly standing.

2009 is forecasted by hospitality experts to be a trying year for the entire industry. The Sustainability Support Program not only guarantees 2009 operational savings but also a return on investment in the same year. The program is even backed by the power of a 150% money back guarantee. "It is a misconception that greening a hotel is a luxury or financial burden," says EcoGreenHotel President, Scott Parisi. "Implementing sustainable practices now only reduces operating costs and in turn, decreases the carbon footprint left by the property."
In the first month of this difficult year, several properties have already signed on for the program and will benefit from the actions. The Sustainability Support Program includes an on-site "green audit" by an EcoGreenHotel consultant and the creation of an on-site "Green Team." Through these efforts, customized 90 and 180 day action plans will be formed. The plans will be tailored to the needs, resources and foreseen benefit of the property. The program's length is determinable by the owner or operator and is customized upon discussion with an EcoGreenHotel consultant.
For more information on EcoGreenHotel and the Sustainability Support Program please visit www.EcoGreenHotel.com or send an email to info@EcoGreenHotel.com.
Featured Product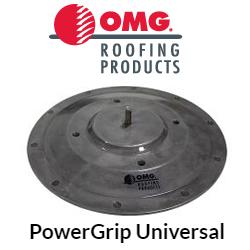 PowerGrip Plus Roof Mount System, a watertight structural attachment system used to secure ballasted solar racks and other equipment to roofs covered with thermoplastic (TPO and PVC) membranes. PowerGrip Plus is designed with wind performance in mind and offers ultimate tensile strength of 2,000 lbf. and ultimate shear strength of 1,075 lbf. Properly installed PowerGrip Plus units reduce rack movement and remaining watertight. PowerGrip Plus units are easy to install, saving both time and labor when compared to alternative options. A wide membrane skirt promotes easy welding in place, and the 15/8 diameter and 1/2 inch tall mount provides an optimal perch for securing brackets or struts. The exposed 1 inch tall and 3/8 inch diameter bolt and mounting stand are made from corrosion-resistant stainless steel and aluminum alloy for superior long-term performance.