Reclaim Resources , the waste-to-energy solutions developer announces it has signed an investment and partnership deal worth £5 million with cleantech investors James Buchan and Paul Barratt.
Reclaim Resources Ltd Signs £5 million Investment & Partnership Deal

('Reclaim' or the 'Company')
Reclaim Resources Limited, the British-based developer and producer of innovative waste-to-energy solutions, is pleased to announce that it has signed an investment and partnership deal worth £5 million with private investors James Buchan and Paul Barratt; the two actively invest in the cleantech' sector and have so far specifically focused their resources on sustainable energy sources in Eastern Europe.
As part of the deal, Reclaim, Mr Buchan and Mr Barratt will establish a new company that will focus on the manufacture of Reclaim's Vantage Waste Processor ('VWP'); a pure household waste-to-energy solution. The new company, as yet unnamed, will be based in Latvia, where both parties are confident that production costs, for both raw materials and employment, will be more competitive and therefore compelling. Reclaim will have a 25% interest in the new company.
The VWP is a patented technology offering a proven method of treating municipal household waste, transforming it into biomass ready for conversion into a range of energy resources including electricity and bio-ethanol. The VWP reduces raw, unsorted household rubbish by up to 60% using thermal hydration; processing and sanitising waste material through an innovative 'continuous feed' rotating stainless steel chamber. Unlike many waste-to-energy strategies currently proposed, VWP is a clean, non incineration, non-autoclave, low energy method of waste recycling.
Paul Barratt commented:
"Alternative energy sources are currently a key priority for many countries across the globe and existing waste management solutions are compounding current issues of global warming and toxic waste. A number of the solutions that are being proposed have significant drawbacks and offer very little real benefit. In Reclaim Resources, however, we believe we have found a system that will have a real impact on waste management; the Company's ground-breaking innovation that provides a pure household waste-to-energy solution will remove the need for landfill, while creating energy cleanly without negative side effects.
We are very excited to have entered a partnership with Reclaim Resources and to be involved with this revolutionary project; it is our conviction that our political, geographical and engineering experience will enable the Vantage Waste Processor to rapidly increase future projects on a global scale."
Philip Hall, founder and managing director of Reclaim Resources, commented:
'I am delighted that Mr Buchan and Mr Barratt have invested in Reclaim Resources; the funds received will provide a major opportunity for the Company to continue the development of the Vantage Waste Processor as well as to market the project on an international scale. In addition, the extensive experience and proven engineering capabilities that are possessed by Mr Buchan and Mr Barratt should prove invaluable as we rapidly grow the business."
-Ends-
For Further Information:
www.reclaimresources.com
Public Relations:
Vikki Krause/Kirsty Corcoran
Hansard Communications
+44 (0) 207 245 1100
About the VWP
After passing through the VWP, the much-reduced remaining waste material is sorted; plastics and metals are separated for recycling and the residue organics can be converted into compost or more importantly energies such as highly valuable bio-ethanol or electricity. Each chamber can treat ten tonnes of waste per hour or 75,000 tonnes per annum per processor, which is equal to the household rubbish produced by a mid-sized town in England.
A major advantage of the VWP is its low running costs and low carbon footprint thanks to an innovative method of heating the chamber which allows the generated steam to be recycled back to the boiler for reuse. In addition, the chamber is not operated under high pressure and therefore provides safer usage. The VWP has undergone rigorous factory testing on a full-size 10 tonne chamber and is the first environmentally sustainable system to successfully treat household waste through an open-ended chamber and continuous treatment line and the most cost effective waste management solution to be found on the market today.
Featured Product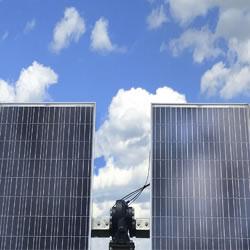 Solar FlexRack's latest solar tracker technology bundles an advanced tracker design with a full team of seasoned engineering and installation experts at your service. The next-generation solar tracker delivers a package of features that both enable increased energy yields for commercial and utility-scale solar installations, and significantly reduce project risks. That translates to smart installation cost-savings across your project budget.