Xantrex Technology Inc., a subsidiary of Schneider Electric, supplied four Xantrex GT Series Three Phase Grid Tie Solar Inverters for a utility-scale solar power installation in Valley Center, California.
VANCOUVER, B.C., January 30, 2009 - Xantrex Technology Inc., a subsidiary of Schneider Electric, supplied four Xantrex GT Series Three Phase Grid Tie Solar Inverters for a utility-scale solar power installation in Valley Center, California.

The 1.1 megawatt (MW) solar power system will be used by the Valley Center Water District (VCWD). The system will provide 2.1 million kilowatt hours (kWh) of electricity per year for the water district, offsetting up to 20% of the electricity required by its largest pumping station.
The Xantrex inverters used in the solar energy system convert the direct current (DC) energy collected by the solar panels into high-quality alternating current (AC) power for use by the water district. The Xantrex inverters were selected by WorldWater & Solar Technologies Corporation (WorldWater), which designed and installed the solar power system. WorldWater recently changed its name to Entech Solar, Inc.
"This is the third project over the last six months in which Entech Solar has chosen to use Xantrex's high quality inverters for large scale solar projects," said Ted Campbell, President and CEO of Xantrex, a subsidiary of Schneider Electric. "We are very pleased with the results of our ongoing relationship."
"This is another example of Xantrex and our company's ability to deliver 'best in class' solar technology to large commercial clients," added Frank Smith, CEO of Entech Solar. "The experience gained from these installations will serve us well going forward."
About Xantrex
Xantrex Technology Inc. (www.xantrex.com), a subsidiary of Schneider Electric, is a world leader in the development, manufacturing and marketing of advanced power electronic products and systems for the renewable and mobile power markets. The company's products convert and control raw electrical power from any central, distributed, renewable, or backup power source into high-quality power required by electronic equipment and the electricity grid. Xantrex is headquartered in Vancouver, Canada, with facilities in the United States, Germany and Spain, and a joint venture in China.
About Schneider Electric
As a global specialist in energy management with operations in more than 100 countries, Schneider Electric offers integrated solutions across multiple market segments, including leadership positions in energy and infrastructure, industrial processes, building automation, and data centres/networks, as well as a broad presence in residential applications. Focused on making energy safe, reliable, and efficient, the company's 120,000 employees achieved sales of more than 17.3 billion euros in 2007, through an active commitment to help individuals and organisations "Make the most of their energy.TM"
www.schneider-electric.com
About Entech Solar
Entech Solar is a leading provider of concentrating solar energy systems. Entech designs, manufactures and installs systems that provide both electricity and thermal energy for commercial and industrial applications. Entech uses its proprietary concentrating photovoltaic and thermal (CPVT) technology to deliver the ThermaVolt' system, which produces cost-competitive distributed energy. For more information, please visit www.entechsolar.com.
About Valley Center Water District
Valley Center Water District is a public water agency located in north central San Diego County, serving a 100 square mile rural agricultural community with 42 reservoirs, over 300 miles of pipe and 26 electric and natural gas powered pumping stations. It is one of the top 20 power purchasers in the San Diego Gas and Electric Service area and is a recognized leader in the areas of energy efficiency and alternative power development.
Xantrex and Smart choice for power are trademarks of Schneider Electric Services International sprl, registered in the United States and other countries.
For further information, please contact:
Xantrex Media Relations
604-422-2589
mediarelations@xantrex.com
Featured Product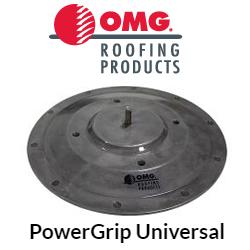 Eliminate Solar Rack Ballast and Reduce Rooftop Material Handling. PowerGrip™ Universal (PGU) is a commercial roof mount system designed to secure solar racks and other equipment to any type of commercial roofing system. PGU provides a secure connection directly to the roof deck or structural members and is designed to reduce or eliminate ballast in solar racking systems, so there's less weight on the roof and less material handling. Made of heavy-duty cast aluminum, PGU units include a base ring which is secured through the roofing cover and into the structural roof deck, and a waterproof top plate.