The Dominican government signis an agreement with Sarasota, Florida firm Sunovia Energy Technologies for the installation of the country's first solar energy plant
Florida and Dominican Republic strengthens commitment to renewable energy

Santo Domingo, Jan 30 -- The Dominican government has further demonstrated its commitment to sustainable development by signing an agreement with Sarasota, Florida firm Sunovia Energy Technologies for the installation of the country's first solar energy plant.
The contract, signed within the scope of a Dominican law providing incentives for foreign investment, will involve an investment of roughly $200 million and provide jobs to some 2,500 workers.
"President (Leonel) Fernandez and his team have shown a tremendous passion for solving the country's energy difficulties; they've realized that having a bilateral focus, including the responsible production of renewable energy, (and adopting) practices that conserve energy are critical steps that must be taken if the country is to achieve energy independence in the long term," Sunovia Energy Technologies CEO Carl Smith said.
For his part, Eddy Martinez, secretary of state and executive director of the Dominican Republic's Export and Investment Center, said the agreement "is the result of the intense work we've carried out for years, in keeping with the worldwide trend of reducing dependence on crude and, at the same time, creating new jobs and attracting new investment to the (country)."
The contract signed with Sunovia Energy Technologies is part of a wave of new investment in renewable energy in the Dominican Republic that also involves other U.S. companies such as Masada Resource Group, STC Engineering and Burbano Recycling, which have set up electricity and bio-fuels plants.
Martinez said, meanwhile, that his country not only wants to attract investors in renewable energy, but also to expand investment in the stem-cell research and genetically modified foods sectors and in the development of hybrid vehicles.
Featured Product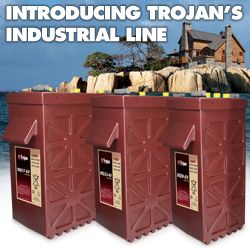 Trojan's deep-cycle batteries provide rugged durability, outstanding performance and long life for use in all types of solar energy installations. With over 90 years of experience, Trojan delivers the world's most reliable and trusted batteries in flooded, AGM, Gel, and Lithium types. These batteries enable solar equipment systems to operate at a peak level of performance in the harshest conditions or the most challenging of locations and are manufactured and tested to IEC standards.