17th European Biomass Conference & Exhibition. From Research to Industry and Markets. CCH - Congress Center Hamburg, Germany Conference 29 June - 3 July 2009 • Exhibition 29 June - 2 July 2009 - www.conference-biomass.com -
Florence, 1st February 2009 -Next June, the European Biomass Conference & Exhibition will be taking place for the 17th edition. The conference will be chaired by Mr. Giovanni Federigo De Santi, Director of the Institute for Energy (IE), Joint Research Centre (JRC) - European Commission.

The Event is supported by the European Commission, the German Federal Ministry for the Environment, Nature Conservation and Nuclear Safety (BMU), the United Nations Educational, Scientific and Cultural Organisation (UNESCO), the World Council for Renewable Energy (WCRE), the European Biomass Industry Association (EUBIA), the Sustainable Energy Europe (SEE) Campaign, the Hamburg University of Applied Sciences (HAW) and further organisations.
"June 2009 will be a good time to review the developments at all levels, including policy, markets, industry, technology, research and education. We expect the results of this 17th European Biomass Conference & Exhibition to help us to support technically the definition of the European Union's specific targets for Renewable Energy for 2020 and the implementation of the corresponding actions. I am convinced the Conference Programme will provide new data and information on biomass resources, biomass conversion, markets development and bioenergy policies. I expect this meeting to be also an opportunity to discuss the status and challenges of National and Regional Biomass Action Plans, biofuels as well as the role of bioenergy in initiatives such as the European Strategic Energy Technologies Plan - SET Plan." says Giovanni Federigo De Santi, Director of the Institute for Energy (IE), JRC - European Commission.
During these five days, scientists, industry, suppliers, funding bodies and decision-makers are invited to meet, discuss and promote the awareness of the biomass community. The international Programme Committee made up of representatives from research, industry and politics will put together an excellent program of around 1.000 plenary, oral and visual presentations. Technical tours and workshops are foreseen.
Parallel to the Conference is the international biomass and bioenergy exhibition, an opportunity to make business contacts, inform about state-of-the-art technologies for new marketing strategies, cultivate business relations for innovative activities and prepare for the increasing growth of the biomass market.
This world class event will be the platform to bring together decision-makers and key persons from industry, suppliers, applicants, government organisations, investment companies and financial world.
Please visit the www.conference-biomass.com website for the booking of exhibition space, Conference registration, late abstracts submission and for further general information.
The visit of the Exhibition is open to the public and free of charge !
Featured Product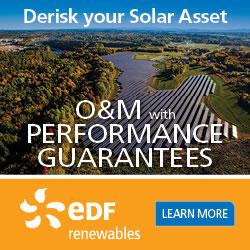 EDF Renewables offers the same innovative solutions that maximize the performance of our own 5.2 GW of installed projects. Because we're not an equipment manufacturer, our recommendations are transparent and data-driven. We cover the entire project lifecycle: from pre-commissioning support, through warranty and post warranty operation, to late stage and decommissioning.